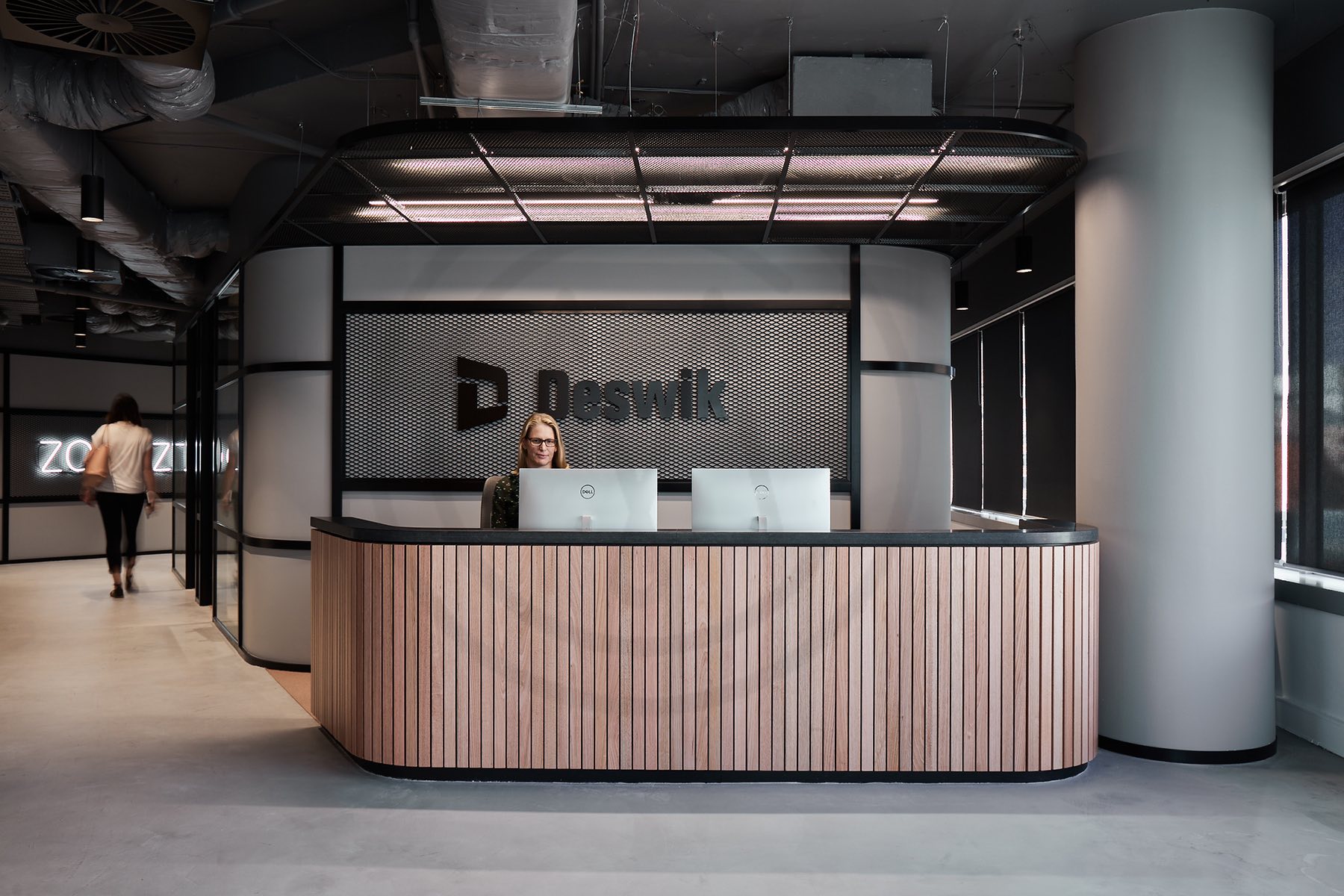 A Look Inside Deswik's Modern Brisbane Office
Technology engineering firm Deswik recently hired architecture and interior design firm Gray Puksand to design their new office in Brisbane, Australia.
"There was a balanced need for focused, quiet work and a strong desire for a vibrant, connected culture. The majority of Deswik's team are geological engineers and software engineers; the nature of their work is incredibly complex and individual. While they may come together for team collaboration and product development, the bulk of their work requires quiet and focus.

The inclusion of team sprint spaces, short stand up zones and intimate team collaboration pods support focused work zones on all levels. These architectural elements provide opportunities for knowledge sharing and ideas generation that were not possible at the company's previous office site.

High energy, collaborative functions are clustered around a newly integrated stair element to activate this connection. This zone has been treated with more visual stimulation than the focused work zones to offer cues for interaction and collaboration. The intertenancy staircase that vertically connects all three levels of the workplace is another significant element of the design.

Deswik enjoyed an already dynamic and connected culture and splitting the team across three levels when they had been used to one single level was a potential threat to that connectedness. Gray Puksand knew that the inter-tenancy stair was critical in promoting this connectedness in the vertical.

Deswik's genuine commitment to connection and community is further brought to life through an 800m2 dynamic social zone with a functioning bar, games zone, kitchen and dining spaces. This was positioned in the middle level, directly connected to the inter-tenancy stair, allowing teams to travel just one level from below and above to enjoy social or informal team collaboration time," says Gray Puksand.
Location: Brisbane, Australia
Date completed: 2020
Size: 30,784 square feet
Design: Gray Puksand
Photos: Cieran Murphy