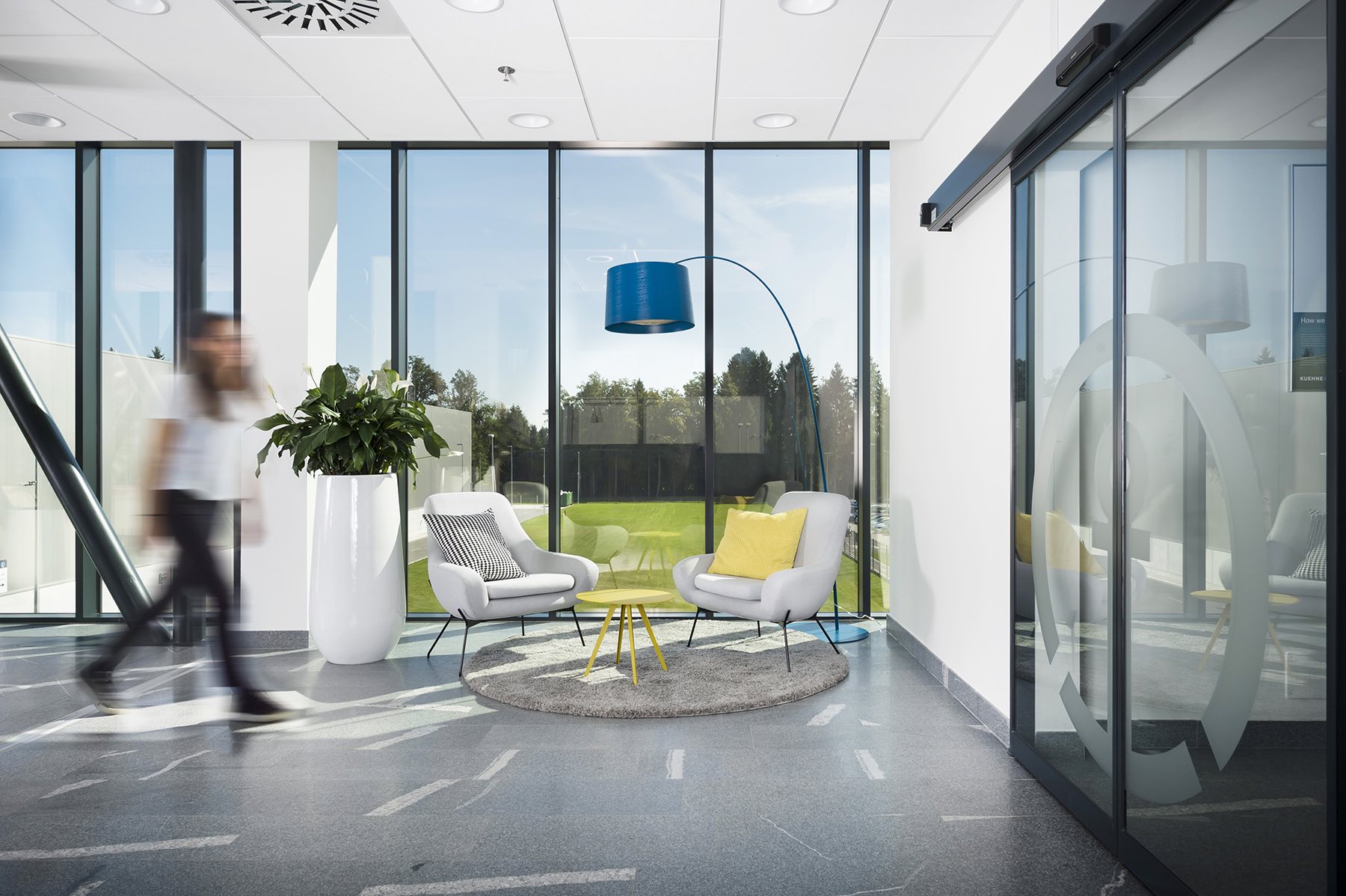 A Peek Inside Kuehne + Nagel's Ljubljana Office
Transportation company Kuehne + Nagel recently hired architecture and interior design firm Kragelj to design their new office in Ljubljana, Slovenia.
"Supporting the company's dedication to great customer service and business relations but also following strict safety regulations, specific to the trade, the Slovenian Kuehne + Nagel branch decided to team up with Kragelj workplace specialists to transform the entrance hall of the new office building in Brnik to reflect the company's values and create a space for clients and employees to meet, without having to enter the rest of the premises.

Kragelj team re-designed the entrance space, to create a multipurpose space – not only a client zone, where business partners would feel welcome and meetings could take place but also a breakout space where employees could relax or have informal meetings.

Reflecting on the visual language of the company, the furniture and materials were chosen in the Kuehne + Nagel color palette. But behind the stunning biophilic design and aesthetically pleasing interior, there is a story told with each element and shade. The logistics landscape is changing with warp speed – there is an ever-growing demand for moving effectively through land, sky, and sea. As the industry welcomes elastic logistics, smart robotics, automatization, and digitalization – companies must act smart and adjust fast.

In the heart of Kuehne+ Nagel, are IT-based integrated logistics solutions. Everything is revolving around smart data processing and effectively using and reusing resources. We wanted this to be evident when using the multipurpose entry space. Even though the visitor lounge isn't big, it gave us a perfect opportunity to present this same concept. Every square meter of the space is smartly used and optimized to promote human connection and interaction. Despite its small size, the Kragelj team successfully created a space with a big meaning, enhancing the company's client and partner collaboration and also internal relationships," says Kragelj.
Location: Ljubljana, Slovenia
Date completed: 2019
Size: 484 square feet
Design: Kragelj
Photos: Janez Marolt