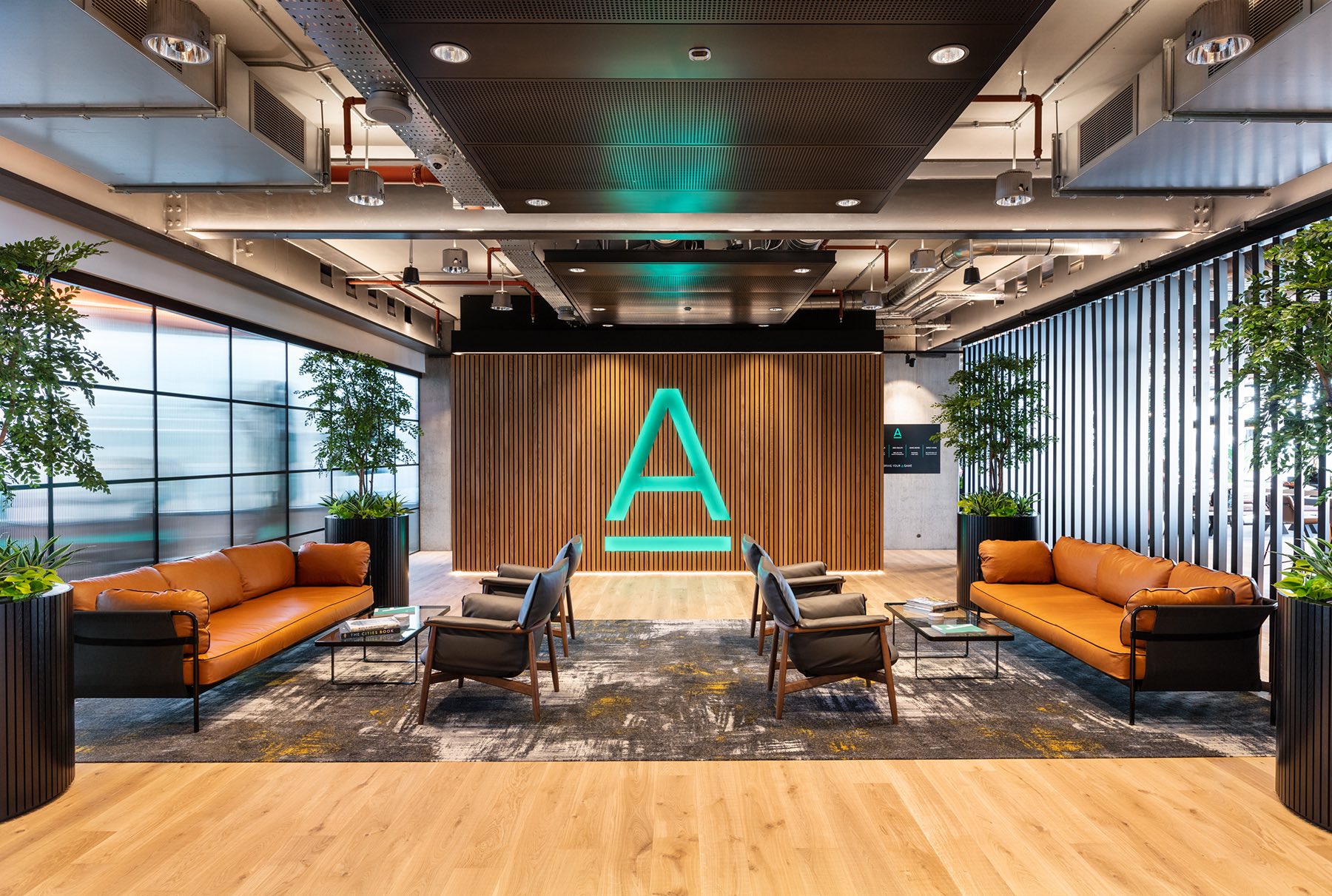 A Tour of Alpha FX's Cool New London Office
Fintech company Alpha FX recently hired office design firm Modus to design their new office in London, England.
"In every facet of the workspace, Alpha FX's care about its people is tangible; the design was centered around the company's 'work hard, live well' philosophy, providing a space to nurture, excite and attract the very best talent.

Beyond the private lift lobby, you'll find a large, open-plan workspace, with a gym, barbershop, tech room, meeting room, lounge, presentation room, tea-point, bar and dining area.

Motivational elements fill the space, in the gym – a space that employees can use at any time – 'Bring Your A Game' adorns the floor-to-ceiling mirror in frosted letters, while in the on-site barbershop – where employees can receive a trim every month – the phrase 'work hard but live well' is emblazoned on the wall in neon letters, visible from the outside in the evening. Everywhere one looks in the Alpha FX office, the sense of energy and positive motivation is palpable.

We created an energetic space, harnessed in beautiful interior design that makes use of the natural light levels and industrial finishes, while adding natural elements and finishes, rounding it all off with pieces of vibrant pop-art that make the space truly come alive.

This design balances the industrial and the natural, utilising the harsh, exposed and angular nature of the concrete and steel to create a dramatic working environment, provocative and imposing at first glance but subtly softened and contrasted by natural elements and materials. Alpha FX's story is only just beginning, and with their new workspace completed, the future holds limitless possibilities," says Modus.
Location: London, England
Date completed: 2020
Design: Modus