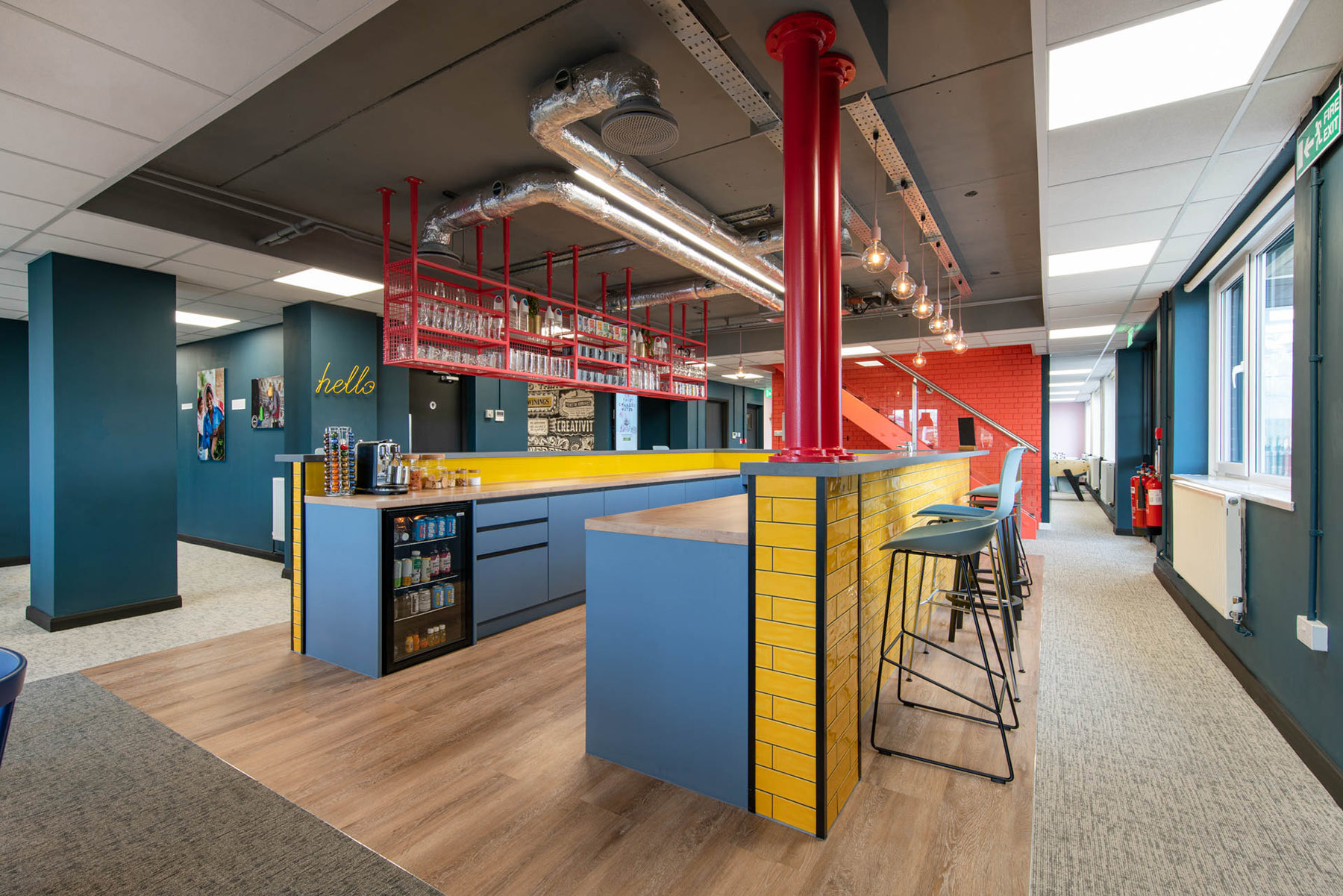 A Look Inside Twinings' New Andover Office
Global tea producer Twinings recently hired workplace design firm Peldon Rose to design their new office in London, England.
"The ground floor focuses on energising employees and promoting innovation. It includes the main collaboration hub, an open plan area with shared meeting spaces, focus pods, and an 'Energise Zone' where workers can change their environment to breakout from their working day, spark and reignite their creativity and energy with a variety of activities including board games and table tennis.

A designated social area, designed in a U shape to increase interaction serves as a central point for engagement with colleagues and visitors, where varieties of teas and other wellbeing beverages can be brewed and tasted. It also acts as a new social hub for monthly meetings and events, such as book clubs, lunch and learn sessions, improving collaboration with the team and incubating Twining's culture.

A special botanist was consulted to enhance the biophilic aspects of the project, with over 90 plants, herbs, and spices in the space, all either edible or air purifying. The plants have been specifically chosen to match each area and bring a direct tactile link with the art of blending flavours and creating new products.

A bold and bespoke Vic Lee wall of artwork was commissioned to depict the history of Twinings in a contemporary style, in contrast to the wider office is a standout feature. A key driver of the project was to create a workspace that encourage a relaxed and open mindset. To incorporate their own personalities into the area, employees have shared their personal photographs and pictures for a tapestry wall, reinforcing the company's community spirit and creating a real home away from home.

The first floor is designed to create creativity, collaboration, and focus. Intentionally paired back, a raw aesthetic, with simple finishes of plywood and chip board, has produced a blank canvas where new ideas can take shape. Innovation walls have been positioned throughout the space, where moments of spontaneous inspiration can be captured. New technology has been seamlessly integrated throughout, with interactive smart boards allowing live annotation, and microphones and cameras within the ceiling facilitating greater connectivity internally and externally.

Agile working now facilitates greater integration across teams. A range of furniture, from standing desks, to benches, to bean bags and sofas, caters for every working style. And then there's The Hive, a creative studio housed in a specially crafted box for focused team working, perfect for brainstorming sessions. Setting this box at an angle that cuts through the geometry of the floorplan has created several dynamic areas surrounding it, alcoves for intimate conversations and smaller team meetings.," says Peldon Rose.
Location: Andover, England
Date completed: 2020
Size: 16,000 square feet
Design: Peldon Rose