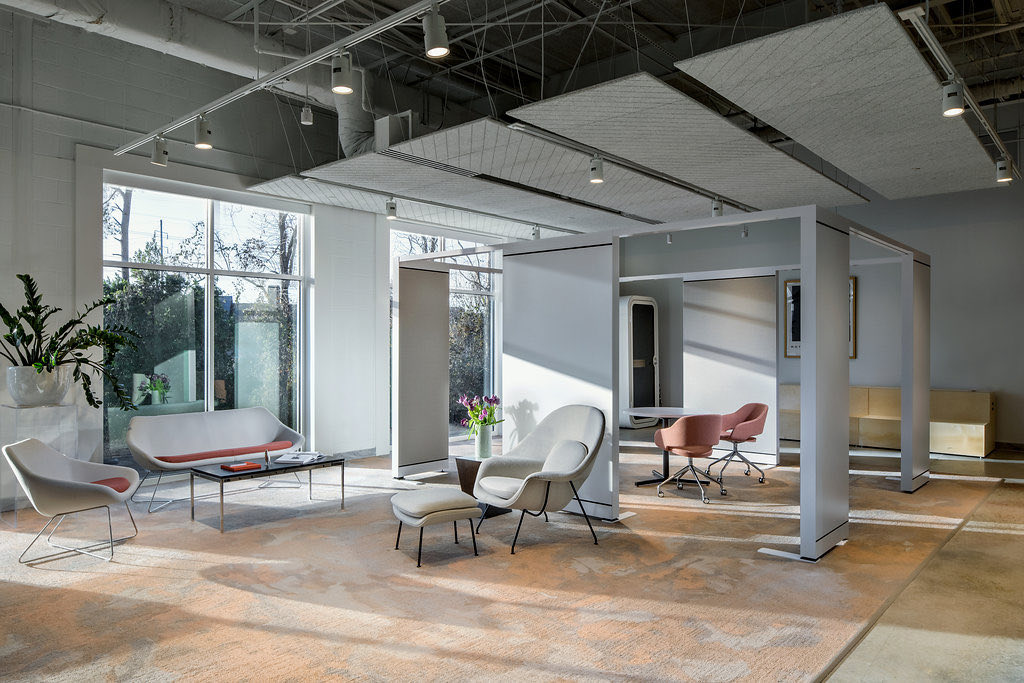 Inside Corporate Environments' New Atlanta Office
A team of architects and designers from architecture firm Square Feet Studio designed a new part office, part showroom for furniture firm Corporate Environments in Atlanta, Georgia.
"Our primary design problem was to deliver an updated working showroom that would allow our client, Corporate Environments, to operate in dual capacity as a bustling office and as a stage to showcase the commercial office environment products that they sell. The redesign would place an emphasis on Knoll furnishings and an adaptable partition system called DIRTT. The legacy of Florence and Hans Knoll and their contemporaries, including Mies van der Rohe, provided the soul of the design story: the Modernist vision of elegance, simplicity, and adaptability.

We studied the details of their existing 1960s warehouse building and it's consistent, though subtle, references to Mies, along with a handsome office wing, we dubbed the 'jewel-box', featuring an exterior brise-soleil layered over a perimeter of glazing and expansive Georgia Cherokee marble-clad walls on the interior. These existing architectural features encouraged us to pull the myriad complexities of the design problem into a simple Miesian composition, logical and architectural while rich in material expression. Structural elements and the straightforward design-logic of the existing building had been concealed and forgotten under layers of paint, drywall, and carpets, but we saw that the architecture was capable of enhancing the function of the showroom and reinforcing the design ideas celebrated in the product offerings.

While abundant in the existing jewel-box wing, natural daylight was spare in the warehouse building. It was critical to introduce new openings to create a comfortable working environment, and to showcase the products in their best natural light", says Square Feet Studio.