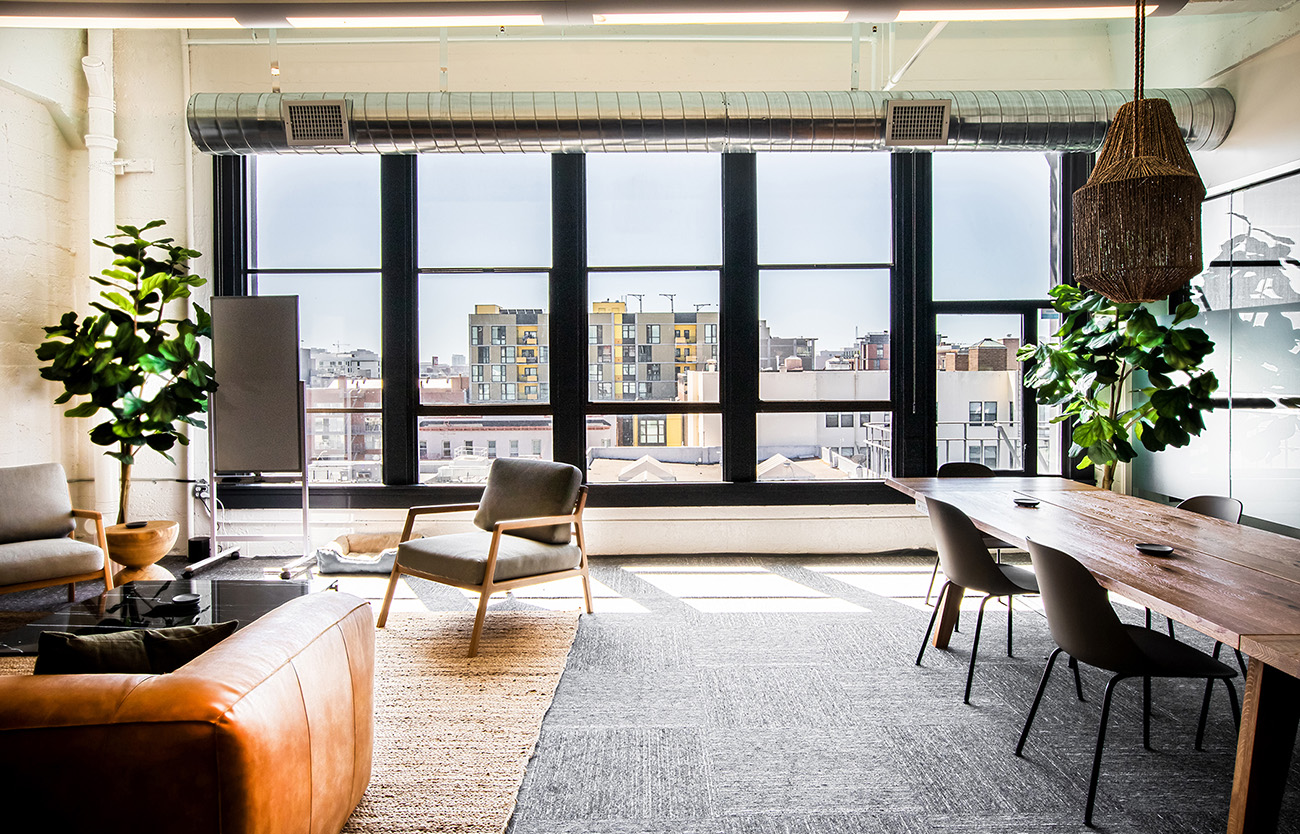 A Tour of Kiva's Cool New San Francisco Office
Non-profit organization Kiva recently hired workplace design firm Uneebo to design their new office in San Francisco, California.
"Our primary focus with Kiva's interior design was establishing an open-plan office that enabled Kiva's employees to feel both comfortable and productive in their working routine. We focused on leveraging the abundance of natural light that was present on each side of their expansive 10,000 square foot office space by strategically positioning relaxation, dining tables, and team huddle areas near the beautiful floor-to-ceiling windows for Kiva's team to enjoy the sunlight throughout the day.

Partnering closely with Kiva's management team, our office interior designer Ashly made a point of incorporating as many elements that could bring a sense of nature and serenity into the office design, including a beautiful huge faux living wall that expands across the entire main work station area for Kiva's team to feel relaxed. Other natural elements of the office design were used through the careful selection of iconic California boho furniture and decor pieces including a beautiful large oak wooden coffee table to ensure Kiva's employees feel they are connected with nature every day.

As you enter Kiva's office space employees and guests are greeted with a welcoming and prominent reception area that includes a beautiful handmade wooden reception desk (that traveled over 2,000 miles to get to San Francisco!) situated under Kiva's bold and iconic green logo to remind everyone that enters of Kiva's culture and mission statement.

One of the key requirements for Kiva was making sure there were enough areas for productive team collaboration but also enough private space for important conferences, Zoom meetings, and calls. With this in mind we hand-picked the best office furniture on the market including soundproof phone booths, enclosed canopy soft seating for privacy, and collaborative semi-circular conference tables to ensure that Kiva's space was as equally productive as it was creative. Not forgetting a private space for Kiva's CEO which includes a custom conference table and beautiful executive office desk.

Overall we are delighted how Kiva's San Francisco Headquarters turned out and in the light of a post-pandemic world we are proud to have designed an open office which not only enables social distancing given our open plan floor plan but also a creative office space that can encourage employees to come back to the office and collaborate once again," says Uneebo.
Location: SoMa – San Francisco, California
Date completed: 2020
Size: 10,000 square feet
Design: Uneebo
Photos: Tri Nguyen