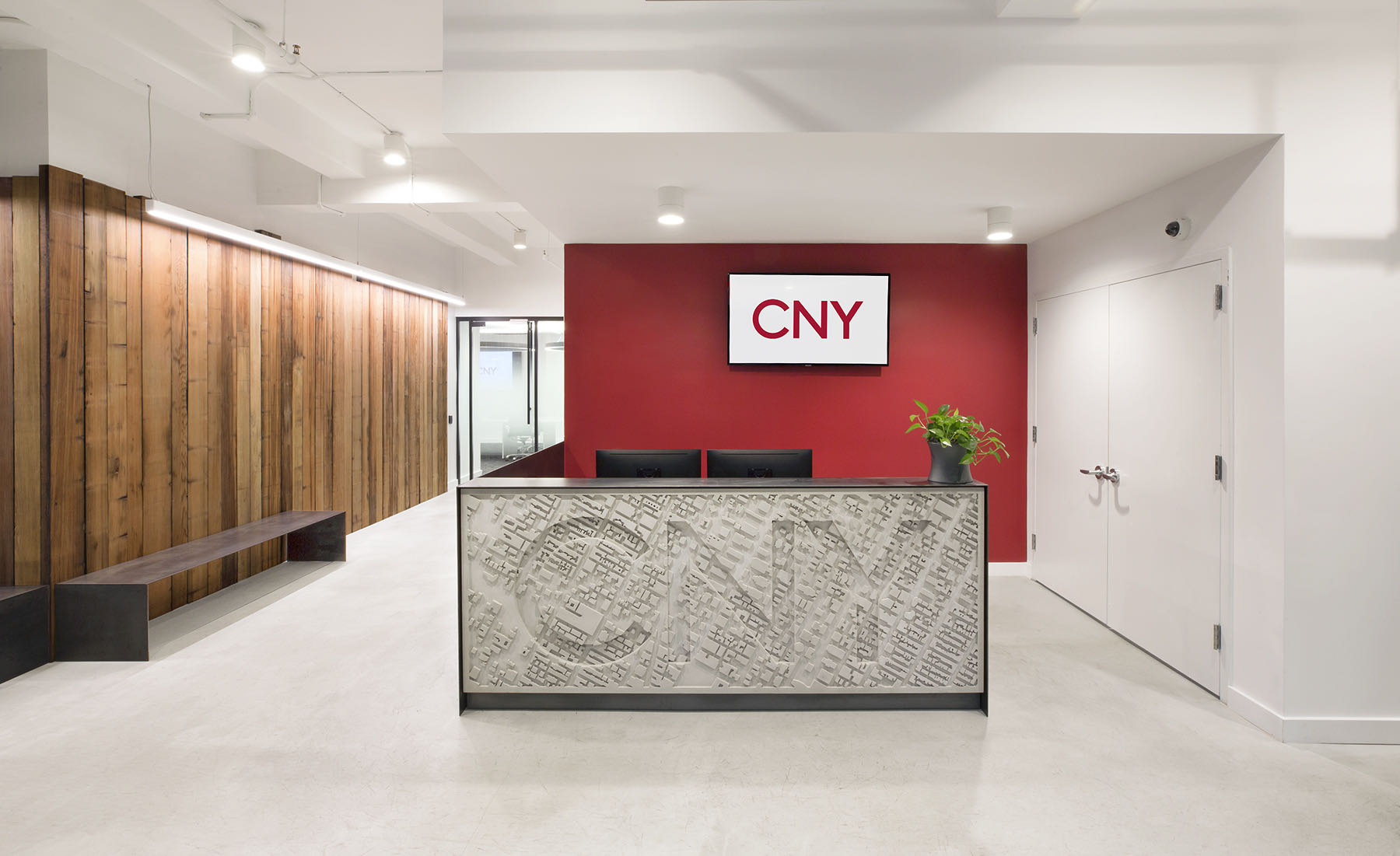 A Tour of CNY Group's Elegant New NYC Office
Construction company CNY Group recently hired architecture and interior design firm Mancini Duffy to design their new office in New York City.
"CNY officially moved into its new workplace on 1440's fourth floor in September 2019. Though interrupted by a circumstantial work-from-home hiatus, CNY has just begun to return to the office, which is able to welcome staff back comfortably due in large part to the forward-thinking nature of Mancini's original design.

To support the fluctuation of team rosters over both short and long-term timelines, CNY Group needed a flexible workspace that was easily adaptable and responded to its workflow strategies. Given the nature of its business, CNY also required ample real estate per person for project materials and equipment, while simultaneously affording the appropriate balance of collaborative and meeting space across a single floorplate. Mancini's resulting scheme accommodates 130 employees positioned six feet apart, in addition to five touch-down workstations, and swing space for 12 additional desks as needed. The space also includes a large multifunctional food service and a number of formal, enclosed meeting rooms––one of which is designed as a seminar-style classroom for continuing education lectures, training sessions, and peer learning events.

Taking cues from the SoHo neighborhood's industrial loft aesthetic, CNY's new workspace features exposed ceilings and beams, complemented by concrete and dark metal and wood finishes. The elemental materiality was accentuated through refined millwork detailing, elevating the design through a symbiotic partnership between Mancini and CNY –– who served not only as the client, but also as the CM, to ensure the original intent and inspiration for the space was carried through expertly from beginning to end. The strong sense of craftsmanship and careful selection of materials further serves as a neutral backdrop for department-specific zones within the floorplate, each of which are customized to highlight the unique subcultures of various project teams. CNY wanted to encourage each team member to embrace the firm's people-first mentality by finding ways to let nuances shine in their personal workspaces. This commitment to highlighting the firm's vibrant culture is echoed throughout the rest of the design, championing mentorship and teamwork around every corner.

Heads-down areas are supplemented by standing-height tables with large-format storage solutions integrated throughout the floor. These areas help to alleviate clutter and provide a centralized point for teams to quickly huddle to review drawings or host impromptu gatherings to discuss the status of a project. Conference rooms in varying sizes are strategically scattered throughout the floorplate, offering enclosed alternatives for collaboration, spontaneous meetings, or professional development. Even the centrally located food service HUB is designed to bring the team together through a spacious design that allows for all-hands discussions or extracurricular programming such as yoga classes. The resulting balance between dedicated workspaces and breakout areas supports CNY's interpersonal culture and enterprising spirit, while accommodating a unique team structure and allowing for efficient workflow and growth across all departments," says Mancini Duffy.
Location: New York City, New York
Date completed: 2020
Size: 30,000 square feet
Design: Mancini Duffy
Photos: Ola Wilk