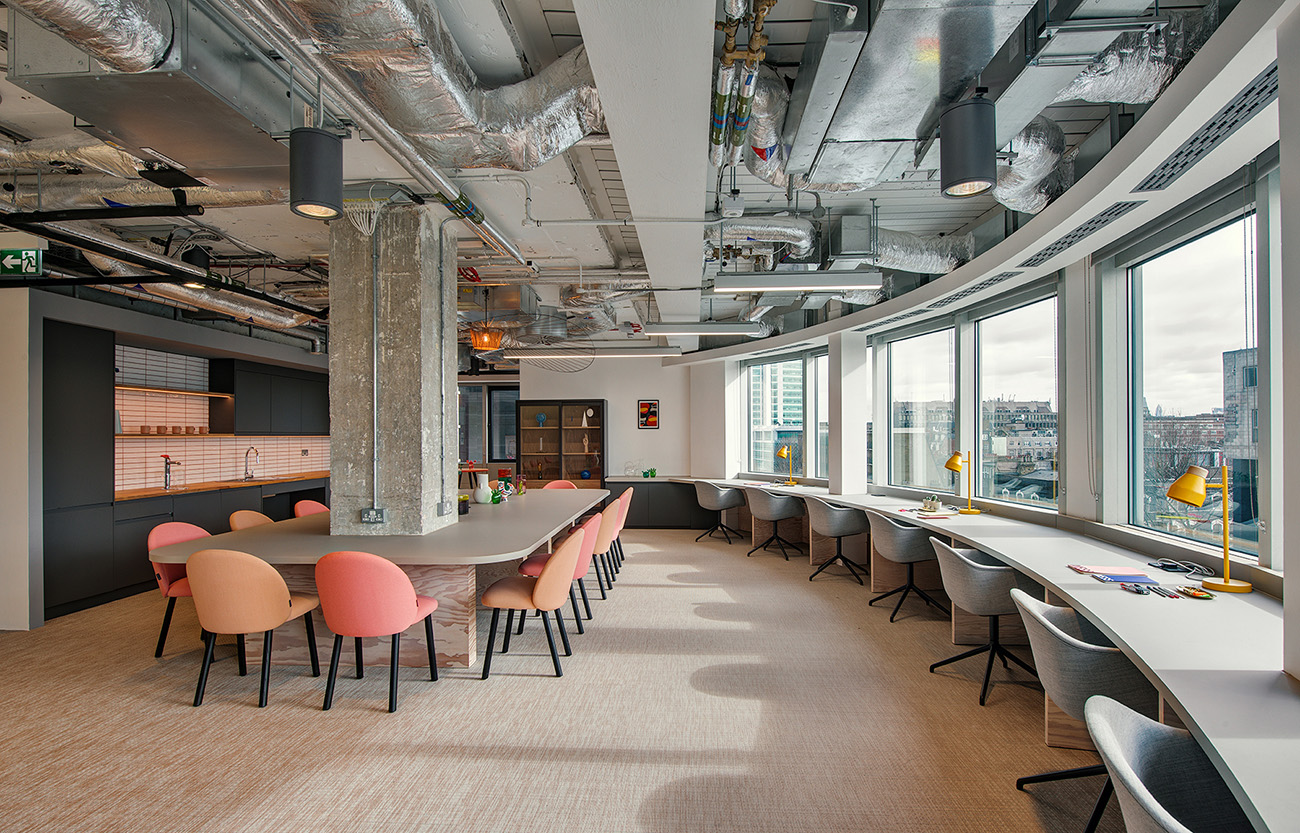 A Look Inside British Land's Modern New London Office
Real estate investment company British Land recently hired architecture firm Nex to design and build their new office campus in London, England.
"British Land sought to refurbish nine floors of workspace and the building's ground floor reception following the vacation of the building by a tenant. People's wellbeing was a key focus of the brief, and it asked for a renewed focus on indoor air quality, biophilia, and places designed for comfortable social gathering. This suggested a complete rethink of the ground floor and upper floors to create more comfortable and lively spaces where people could meet, work and socialise.

On the upper floors, close scrutiny of changing tenant needs led to a brief that could provide tenants with simpler and more flexible access to space to suit their changing needs without the service levels often associated with a fully serviced office product. Most importantly, British Land sought a more sustainable model for workplace fitout that aligned with their ambitious sustainability goals for the whole Regents Place Campus. Finally, the brief asked for the project to be realised within the budgetary constraints of a typical landlord's Cat-A fitout.

To create a more sociable atmosphere on the ground floor we removed large formal reception desks and security turnstiles and replaced them with a concierge welcome, while relocating access control to the lifts. We introduced informal meeting and work touchdown settings alongside a new cafe and juice bar. Behind a vast three-storey high south-facing glass wall we placed an intricately woven curtain to offer solar shading and privacy onto Euston Road. Our use of bamboo throughout the lobby was not purely an aesthetic choice; the material is fast-growing and has a carbon negative production path. This ethos is carried onto the furniture selection, with chairs made partially from recycled PET bottles and new carpets made from recycled materials laid over existing porcelain tiles. All new lighting is high efficiency LED.

On the upper floors, the new workspaces extensively re-use previous materials to dramatically reduce waste and the project's carbon impact. With the exception of one floor returned to CAT A, we retained and refurbished almost all existing mechanical and electrical equipment. Existing meeting rooms were refurbished or rearranged, while raised floors and lighting were repaired and recommissioned. We carefully dismantled large quantities of old fit-out made from douglas fir. This material was remade into new fitted kitchens and social spaces, fitted work desks, joinery and furniture. All were stained with a transparent white oil. New carpet was made from recycled PET.

Loose work desks and task chairs were taken off-site and fully refurbished with the table tops recycled and replaced. Over 75% of the breakout and meeting room furniture was refurbished and reused," says Nex.
Location: London, England
Date completed: 2020
Size: 77,500 square feet
Design: Nex
Photos: Modus Space