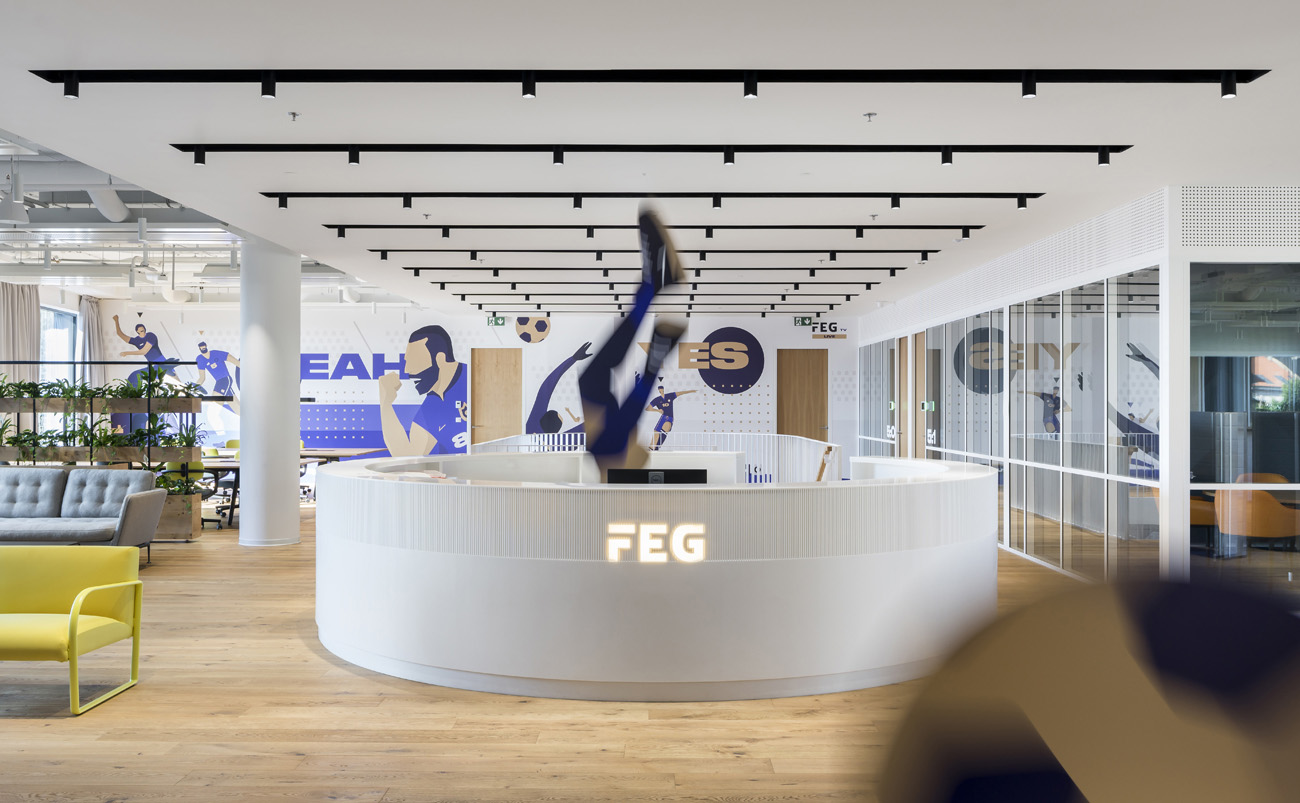 A Tour of FEG's Sleek New Prague Office
Entertainment company Fortuna Entertainment Group recently hired architecture and interior design firm Studio Perspektiv to design their new office in Prague, Czech Republic.
"We decided to make the most of the space and design offices whose main feature is simplicity, sustainability, and efficient use of space. Emphasis was placed on maximizing creative potential and creating ideal conditions for community support with reference to the principles of the agile workplace.

The FEG offices are located on four floors of the Churchill II office complex, with a view of the historical Prague. The main communication axis of this implementation is a white metal staircase, which serves as a connection for all floors and allows free movement of employees across the company.

The visitors receive a welcome on the top floor is a spacious reception area. The circular reception, referring to the company's logo, is complemented by a nook for arranging meetings and a space for undisturbed work.
The comfort of the staff is ensured here thanks to a full-fledged café with professional equipment and a barista. Employees have the opportunity to relax and choose from the rich offer of activities that office space offers. There is a games room with billiards or a game console. Active sports enthusiasts will especially enjoy fitness, complemented by a weightlifting zone and TRX.

A flexible shared work environment is created for more than 700 employees of 28 nationalities instead of dedicated jobs. In short, the number of desks is lower than the number of employees. However, they have the opportunity to use various workplaces such as quiet zones, phone booths, hot boards, focus rooms, or scrum rooms, designed for interactive and dynamic formats of team discussions. Of course, there are also meeting rooms of different sizes or spaces for events and training.

In social spaces, high-quality materials that withstand the conditions of everyday operation play a leading role. The distinguishing feature is visual simplicity and purity, with maximum use of the properties of the materials used. The neutral palette of key elements contrasts with the colorful colors of the furniture and strong illustrations. Sustainability and technology interconnection have been fundamental pillars since the beginning of design planning. The space is dominated by recycled, natural, and high-quality materials", says Studio Perspektiv.