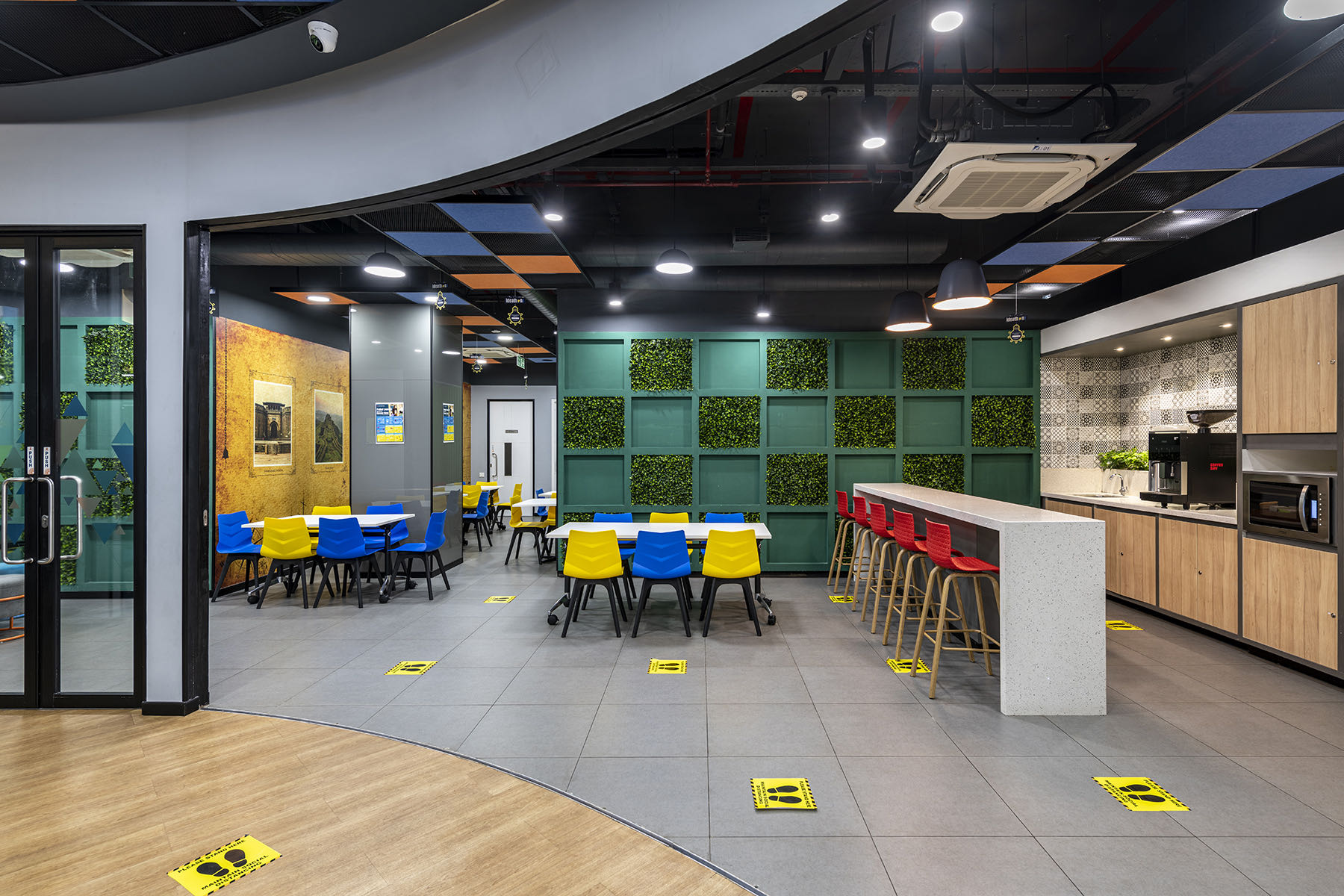 A Look Inside Altimetrik's New Pune Office
Software company Altimetrik hired workplace design firm Zyeta to design their new office in Pune, India.
"The overall layout is divided into two parts—upper and lower. The former houses the reception, welcome lounge, café. Overall, it is a multi-purpose area that alongside the playground area and curved glass sliding partition, offers up the opening for a proper townhall expansion—ensuring that company events, gatherings and special occasions always have an iconic platform to occur. The latter, however, contains the entire layout for the workplaces and operational areas. It is constructed in such a way to allow for the strategic division of all the 206 workstations, meeting spaces, collaboration zones and other seating areas into Offshore Dedicated Centers (ODC's)–as per the organization's vision.

The final piece of the puzzle is—'The Cloud'–the central design element of the office interiors. Taking inspiration from the logo and branding of the company, this uniquely-designed curvilinear ceiling demonstrates the core, consistent values of the company to the 200+ employees each and every day.

Overall, the workplace now stands a structurally solid setup, that has a positive impact on the daily Organizational workflow. Finally, the healthy supply of natural light, vibrant colors, wall and creative carpet patterns, build a joyous, health-positive vibe around their employees. All these factors ensure that the office interiors always make a strong impression to employees, clients, partners and other Stakeholders. All the while, signifying a unique presence for brand Altimetrik across the board," says Zyeta.
Location: Pune, India
Date completed: 2020
Size: 17,000 square feet
Design: Zyeta
Photos: Prashant Bhat