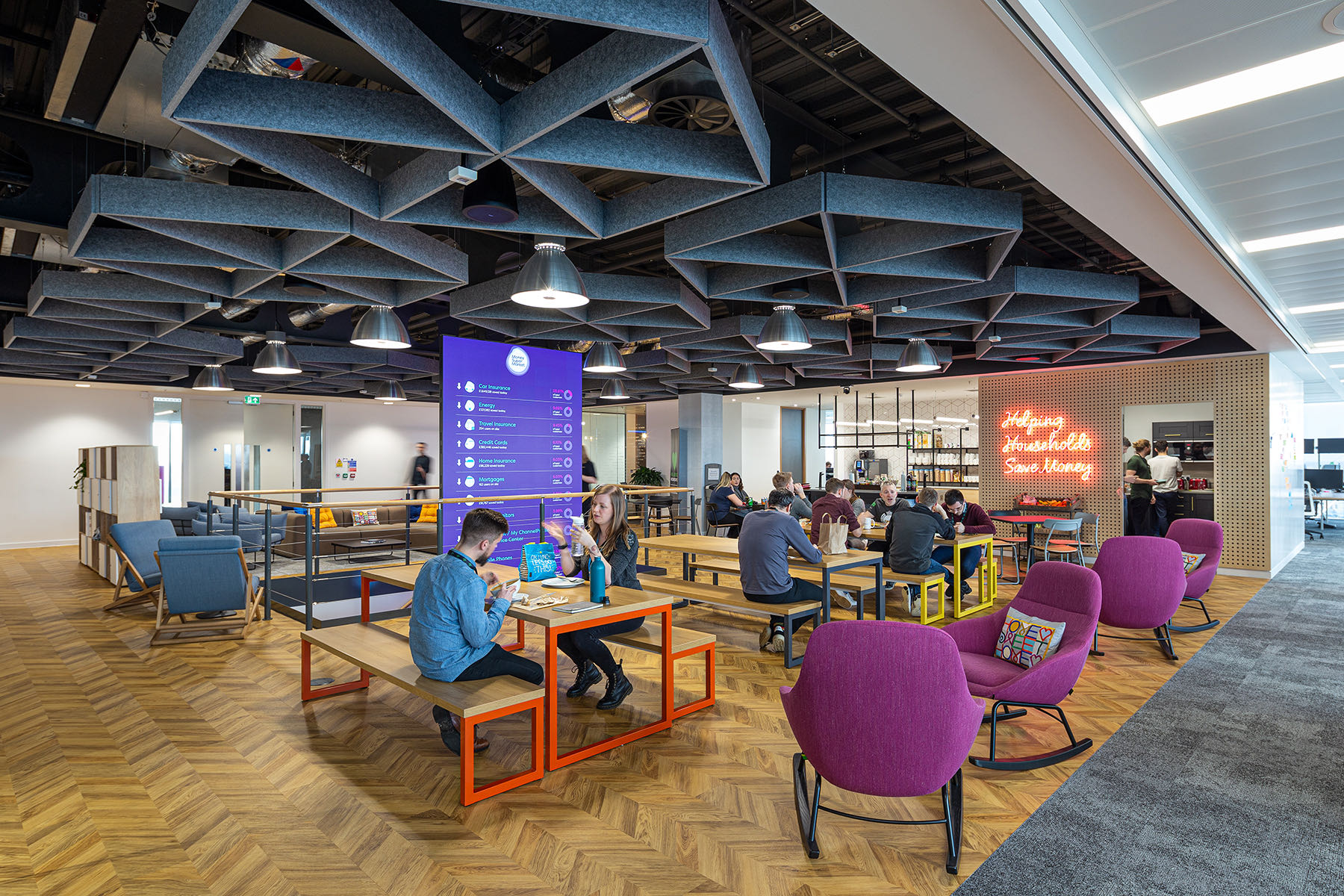 A Look Inside MoneySuperMarket's New Manchester Office
Price comparison website-based business MoneySuperMarket hired interior design firm TSK Group to design their new office in Manchester, England.
"Our brief was to design and build a new tech hub for MoneySuperMarket in Manchester. This new hub had to feel like a MoneySuperMarket office, but most it importantly, it needed to attract Manchester's top engineering talent, as well as creating symmetry between the Manchester and London offices. The space needed to inspire people to operate effectively, efficiently and collaboratively to form better connections with their customers.

With great natural light throughout, combined with organic materials, the design creates a sense of arrival when walking into the space. Capitalising on the amazing views and combining them with warm tones and bright pops of brand colour, it takes staff and guests on a visual journey, and give a real sense of excitement at what can be achieved.

To help build the united team MoneySuperMarket wanted, the floors were knocked through to create an interconnecting staircase, allowing the two floors to flow and create a relationship between them. A bespoke, seven metre tall, dual sided LCD screen also links both floors through stairwell opening and gives a live connection through technology to their customer.

Each part of the workplace was designed to facilitate a more agile approach to working. There are multiple 'neighbourhoods' within the office space, created with overlapping and shared areas where different the different teams can come together and collaborate. This design style gives employees a sense of belonging while bringing the staff together as one community.

The integrated site to site technology allows the Manchester office to connect to the other offices and their audience. The bespoke customer experience labs, complete with original artwork, have been designed around a living room setting.

MoneySuperMarket's new Manchester office creates an environment for their staff to form better connections with their customers, as well as empowering teams to deliver their best work", says TSK Group.
Location: Manchester, England
Date completed: 2019
Size: 23,000 square feet
Design: TSK Group
Photos: Mike Dinsdale