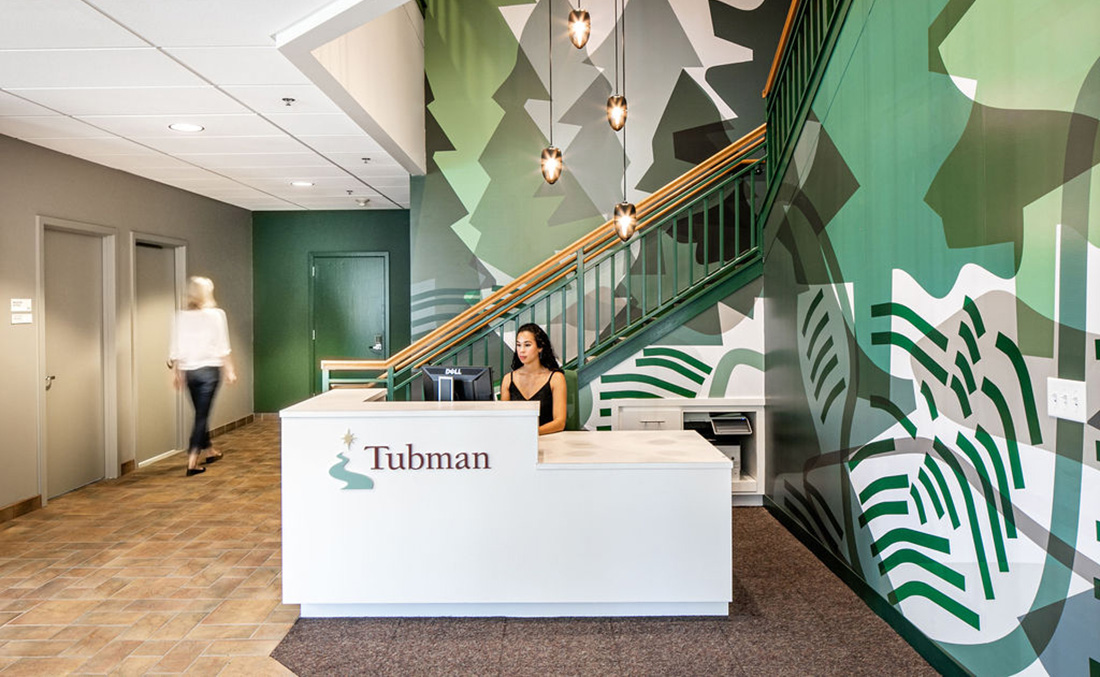 A Tour of Tubman's New Minneapolis Office
Architectural design firm Studio BV recently designed a new office for mental health service Minneapolis, Minnesota.
"The rich new brand colors are accented by a palette of camel, creams, browns, soft greens and yellows as well as neutrals and features a mix of wood tones and soft colors to connect to the origin story of Harriet's night journeys toward freedom.

The design team created custom artwork to tell the story of Harriet's journal through the woods and landscape to escape her bondage. These patterns, images and colors are bold yet soothing. They are meant to make a strong connection to the staff and visitors reinforcing the message of hope and optimism in the work they are doing.

The design team redesigned the lobby experience to make sure that the first impression in the new space would be a friendly face, a clear brand impression and a large monumental stair. The stair was existing, but the design team redesigned the walls, lighting, colors and materials of the stair to give it a new look. It is now a feature and is the center of the story telling graphics for the space.

The new office features new therapy rooms and group rooms. A large flexible meeting space can be used to support community events and engagement. A new Harriet's Closet area that is a retail like store that supports their client's needs for food. A food pantry, new restrooms and a new café.

The new café features a teaching kitchen and a staff kitchen that can work together or independently with the use of a garage door. This allows the team at Tubman to help create new programs for teens and young adults that focus on healthy food," says Studio BV.
Location: Minneapolis, Minnesota
Date completed: 2020
Size: 20,000 square feet
Design: Studio BV
Photos: Jessica Stoe