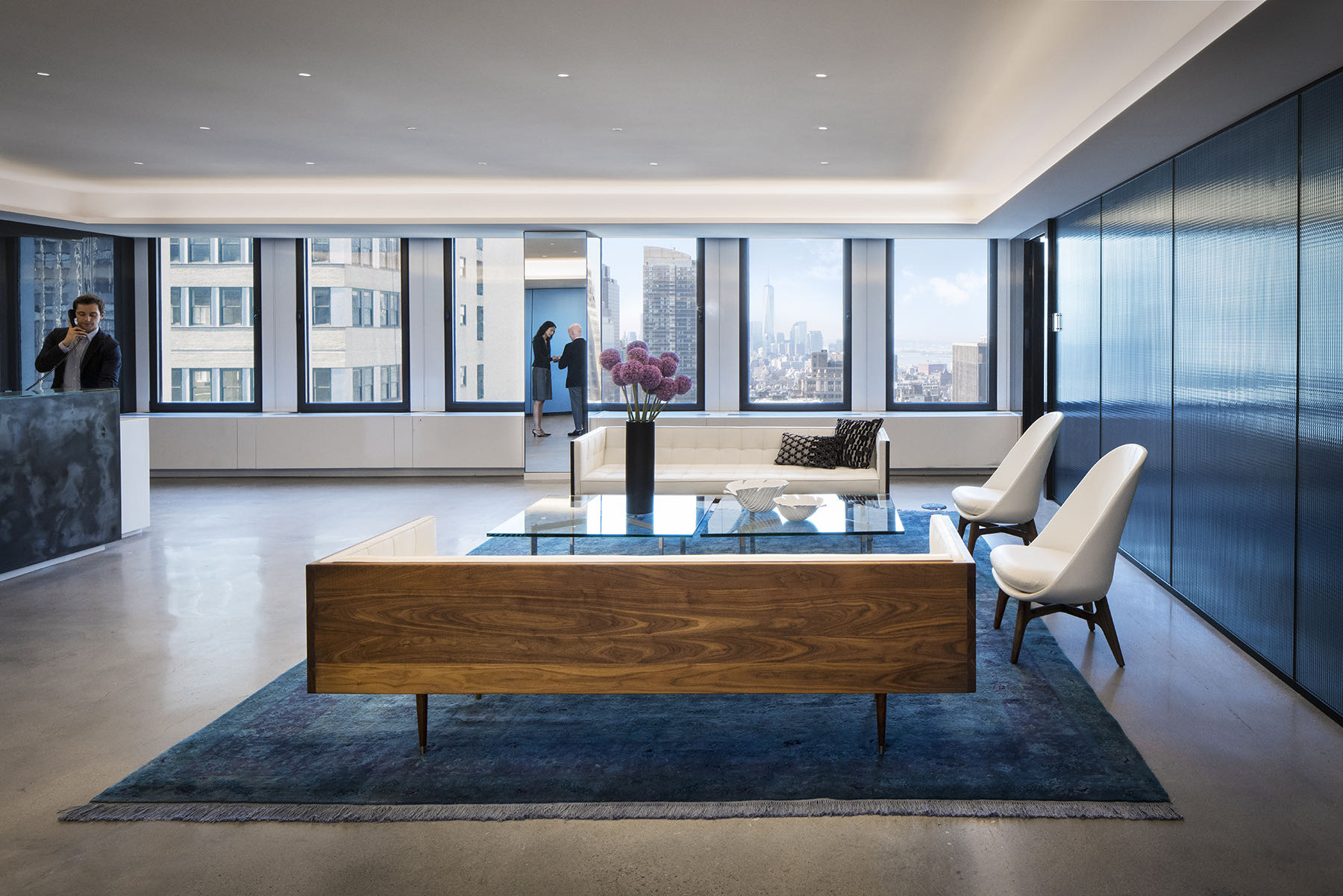 A Tour of Charles River Associates' New NYC Office
Global consulting firm Charles River Associates recently hired architecture and design firm Elkus Manfredi Architects to design their new office in New York City, New York.
"An urban industrial loft aesthetic captures the essence of New York City, featuring polished concrete, exposed ceilings, dark bronze finishes, interior glass walls, and a palette of soft neutrals, punctuated by pops of blue and purple. The palette was selected by the CRA team through an extensive engagement process exploring a wide range of design options.

Circulation spaces feature polished concrete floors; the workstation spaces are carpeted in a neutral grey for a smooth visual transition from the concrete.

Efficient use of real estate was important. The reception area is immediately adjacent to three conference rooms, so it was important that it would not acoustically overpower the conference rooms. Using a semi-opaque, sound-diminishing textured glass for the conference room walls that faces reception, the design allows light into the meeting spaces while also providing visual and acoustical privacy.

The reception area features a classic Oriental rug custom over-dyed blue to balance the space's concrete and glass aesthetic with a touch of softness. Merging of CRA and its acquired Marakon team within the new 35th-floor workplace was also critical. The Elkus Manfredi team designed an open team workspace, defined spatially by its exposed industrial ceiling, with adjacent collaboration areas, and a game room that reflects the energy and work style of the Marakon team. This team space is set cohesively within the new office, creating a unified whole.

The reception area's spatial planning leverages magnificent views to lower Manhattan and the Hudson River, while team rooms, individual offices, collaboration spaces, and workstations make the most of tall windows and energizing city views for the whole CRA team.

Bright pops of color energize the workplace with back-painted laminated glass in blue and purple. Great Room cafés on both floors are intentionally distinct from the workspaces, providing staff with a refreshing change of environment. With dramatic views, sophisticated lighting, café tables, and a riveting reflective purple glass end-wall, it is space for recharging, eating, and casual connection with colleagues.," says Elkus Manfredi Architects.