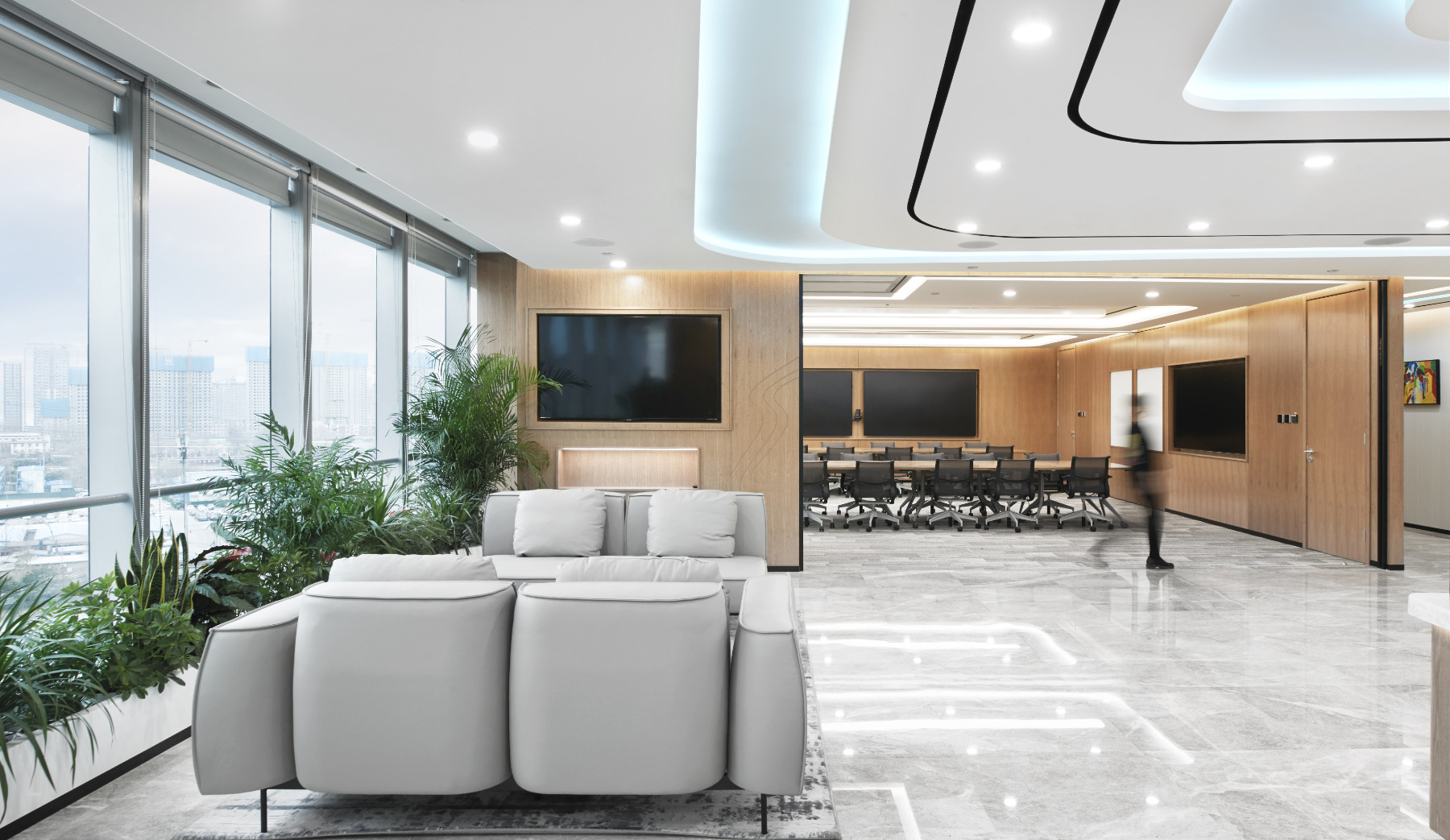 A Look Inside Hogan Lovells' New Beijing Office
Global law firm Hogan Lovells recently hired workplace design studio MCX Interior to design their new office in Beijing, China.
"When an opportunity arose to enhance their unity and inclusiveness by moving to a new, full floor space that became available in the same building, Hogan Lovells identified the potential of this opportunity and engaged MCX Interior to create a thriving and inclusive workplace environment that will foster and empower its employees to succeed.

Sustainability played an important role in the design of Hogan Lovells' new office to help their employees think, feel and work better in offices with more natural lighting, clean air, comfortable temperature, lovely views of the outside and inspiring design. Sustainable design features in this office that reduce energy and water consumption, introduce biophilic design and improve air quality have also earned Hogan Lovells a LEED Gold certification for their new workplace.

These efforts have not only given Hogan Lovells the only commercial interior office in the entirety of the China Central Place complex with LEED Gold certification, but also made Hogan Lovells proudly the first law firm ever to receive LEED Gold certification for its office anywhere in Beijing, China.

The design inspiration for the Hogan Lovells new office came from water and its edges, encapsulating the firm's slogan for its commitment to inclusion: "One Hogan Lovells: many perspectives". The water symbolizes Hogan Lovells moving as one fluid team in harmony. On the edge of the water, we find life in various forms that offer new perspectives, reminding us to respect diversity and treasure identity and unity

The water concept appears throughout the design in the space planning and even ceiling light features that guide users throughout the office. The lighting can change colors for various activities, events and internationally recognized holidays, as well as periodic firm-initiated awareness days to signify diversity and inclusion.

Employees can find a space to focus, collaborate or unwind at the water's edge. Artistic carving in the wood panels throughout the office symbolizes the water's edge. The design introduces lush shades of green and plants spread throughout the office to connect employees with nature. Ergonomic furniture and height-adjustable tables also provide a comfortable workplace to promote employee health and wellness.

Natural light floods the office and brings a flow and vibrance of energy. Glass walls on most perimeter offices maximize the natural light and views into the inner spaces. The meeting rooms use a polarized electronic glass system in the operable wall that enables privacy inside the meeting rooms without impacting the office's openness. The reception, meeting rooms and business lounge can be combined to host events and town halls. Hogan Lovells' new office will serve as a truly diverse, inclusive and sustainable workplace to help attract talent, drive innovation and deliver the best experience for their employees and clients," says MCX Interior.
Location: Beijing, China
Date completed: 2021
Design: MCX Interior