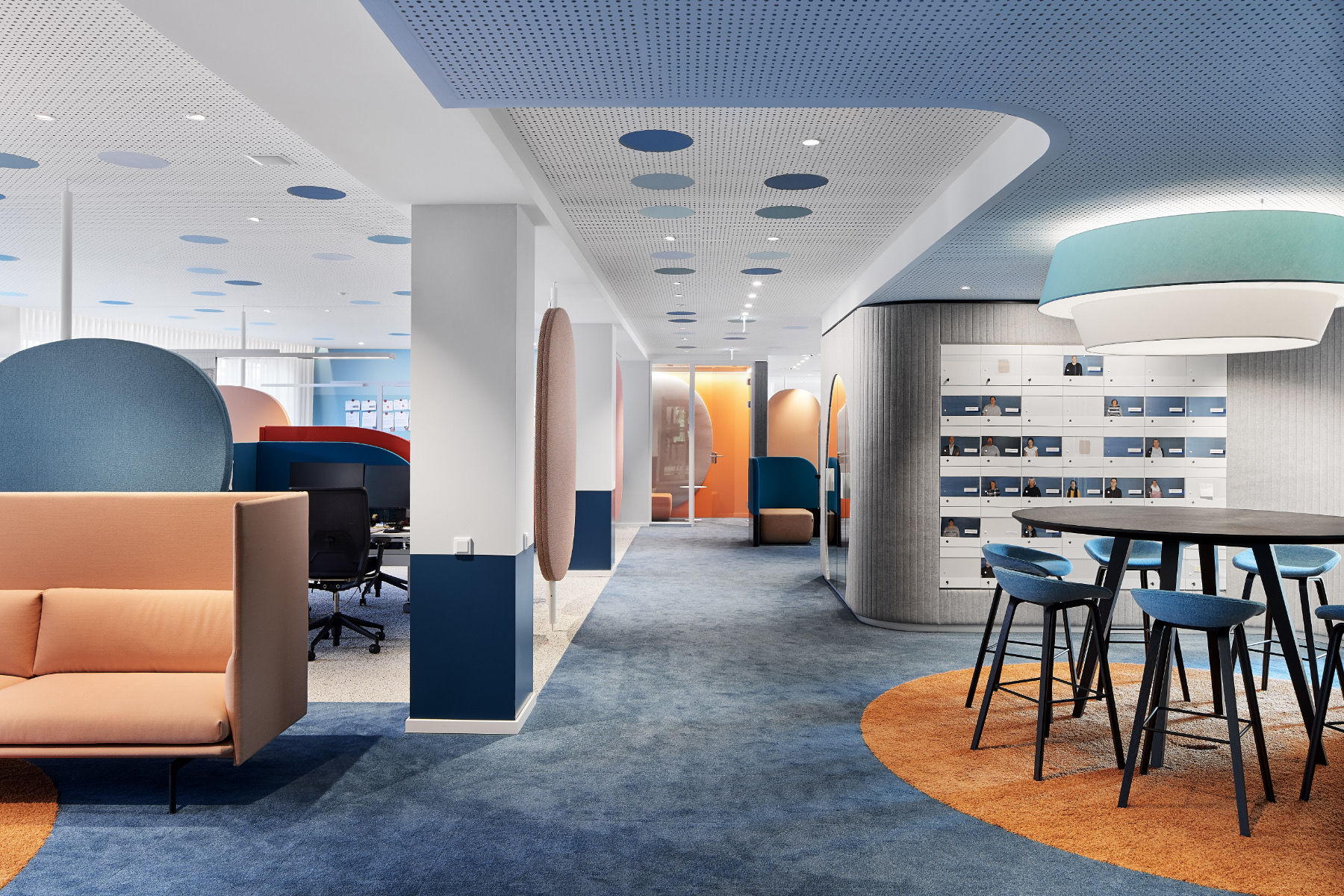 A Tour of Aktion Mensch's Cool New Bonn Office
German social organization Aktion Mensch recently hired architecture and interior design firm Ippolito Fleitz Group to design their new office in Bonn, Germany.
"Our aim: To create a dynamic work world across 3900 m2 where differences are normal. Meeting the same demands as in the numerous projects that Aktion Mensch supports each month. Making innate values tangible. Creating a place where all emplo- yees feel they belong. To do this, we exploited our strengths as a multidisciplinary design studio to implement inclusion in a modern and sustainable way. While at the same time preser- ving the structural substance of this office building from 2003, because a responsible use of resources is just as important. –– This is how we like to work best: by taking the existing structure into account and working effectively within the given budget. And if everything must be implemented while business opera- tions continue, no problem. Responsibility shows itself best in cooperation.

After reorganising the total floor area into eight zones, work life is organised around a village square that forms the centrepiece of each area. As central meeting places, all village squares have their own theme, from which the colour scheme for the square and the adjacent department is derived. Each colour concept is completed by an individualised ceiling. This always provides a definite answer to the question »Where shall we meet?«: at the festival, the harbour, on the sports field, in the garden, the library or at the market. This not only improves orientation, but strengthens the sense of belonging. Neighbourhoods are culti- vated. At Aktion Mensch, cultural identity is created through real-life diversity. –– If nobody is excluded, then anonymity no longer has any place.

Employee diversity is illustrated in the bold colours of the room elements. Changeable furniture, soft materials and round shapes that are never perfectly round. Each of them is unique, just like the personalities who work here. A joy for life is expressed throughout. Differences are revealed, all of which appear quite normal here. A sense of well-being can be felt at all times. The space tells stories. And the work world is readable for every- one in their own language. –– Lust for life. Desire for diversity. Vibrancy. Diverse, variable, inward leaning, approachable, taking a stance. Equal rights on an equal footing. This is what distinguishes our work world for Aktion Mensch.

Communication hubs in village squares, which can be regrou- ped according to your requirements and preferences, promote identification with your work environment. Workplaces have mobile design elements that can be adapted individually. Flexi- bility is key here, also in order to ensure needs-based accessibi- lity. A high degree of self-determination, which our design con- cepts enable in a natural and intuitive way, is a vital prerequisite for fully functioning agility," says Ippolito Fleitz Group.