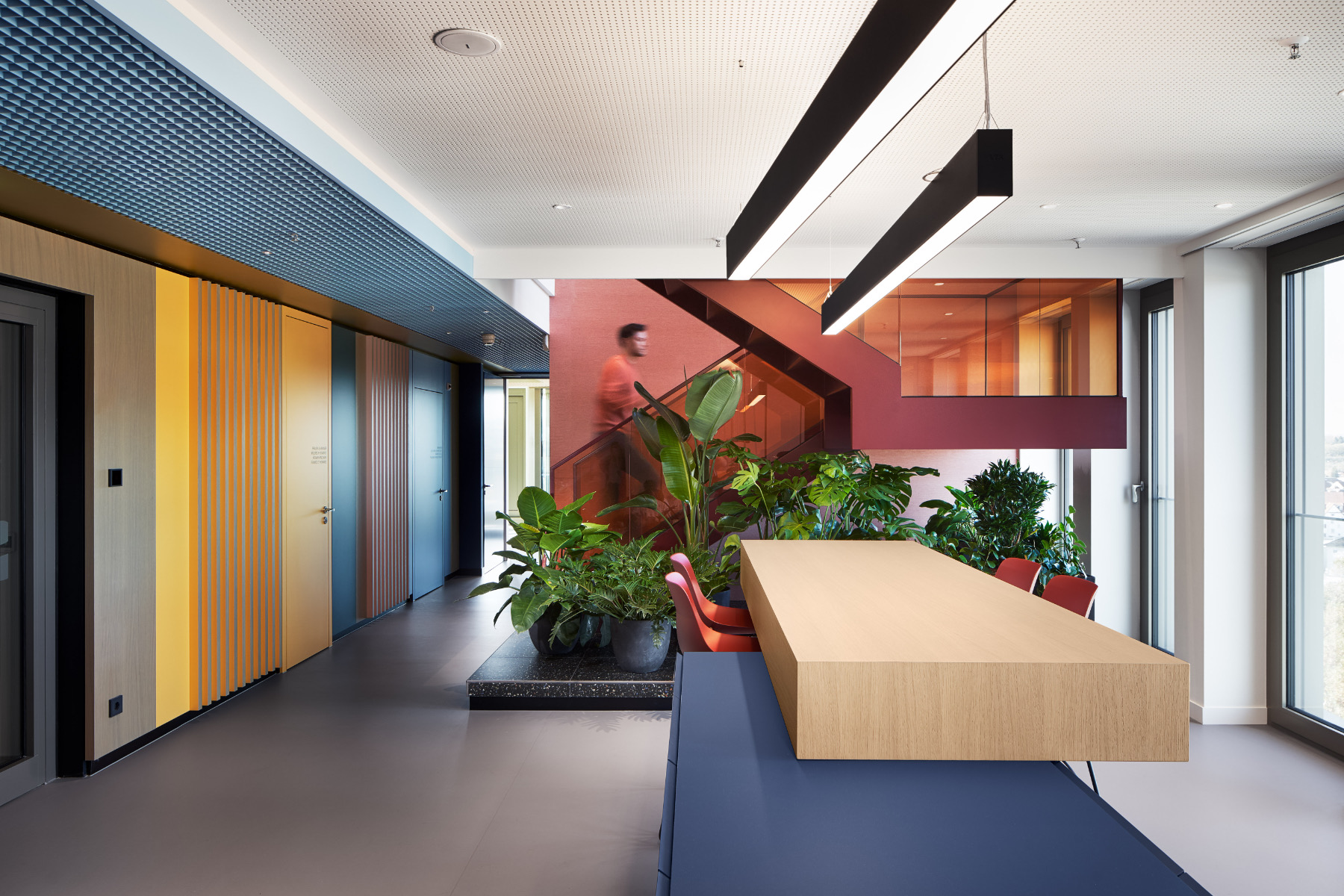 A Tour of Schöller SI's New Reutlingen Office
Real estate developer Schöller SI recently hired architecture and interior design firm Ippolito Fleitz Group to design their new office in Reutlingen, Germany.
"Especially in times like these, when the office has moved into everyone's living room, the value of shared office spaces beco- mes crystal clear: While concentrated work is possible at home, collective work environments are places where co-creation, collaboration and communication prevail, thereby allowing completely new ideas to unfurl. They are places where corpo- rate culture is lived and shaped, and where a sense of purpose is created through the symbiosis of different people and disci- plines. With the new office for Schöller SI in Reutlingen, Ippo- lito Fleitz Group shows that such places can also be homey: Warm colours, an exciting materials mix and a natural look define this two-storey office. It not only creates a pleasant wor- king atmosphere, but also reflects the values of an innovative project developer, whose core business is not just commercial, but above all residential real estate …

Thanks to Willi Schöller, a wind of change is now blowing in Reutlingen. Because the visionary developer not only invests in wind farms and renewable energy, but also set a striking example with his 2019 'Stuttgarter Tor' real estate project in the centre of the large town at the foot of the Swabian Alb. The 64 metre-tall edifice, in which gastronomy, living and working are combined, is the town's first high-rise building and forms the nucleus of a brand-new quarter: In future, more residential and commercial units and even a hotel are planned for the 'City Nord' quarter. So there are busy times ahead for the resident project developer, who is well aware of his style and town- defining role, and who wants to enjoy the great views from the 'Stuttgarter Tor' himself: The group moved into two of the eighteen floors in January 2020. The family company's innova- tive and binding identity is now reflected across a floor area of around 850 square metres.

The clarity of the architecture (which imbues almost all Schöl- ler SI projects) is continued in the interior – but becomes quite literally more multi-faceted: Tinted glass partition walls, pale curtains, linear storage units and fringed carpets zone the dif- ferent areas, giving the space a rhythm that is characterised by overlays, reflections, transparency, but also by density. Accor- dingly, both open-plan and more intimate sections, as well as different work situations can arise: from the classic workbench and large shared tables, to lounge situations and alcove retre- ats. As a free interpretation of the slogan "Your office is where you are!" ( ACTIVITY-BASED WORKING), employees can decide which informal constellation best supplements their fixed workstation, supporting them in (internal) communica-
tion and thus helping them perform their daily tasks.

Despite these divisions, the space remains fluid and flows smoothly around the central access core. To transform this closed centre into a lively focal point, its design was delibe- rately exciting: Bold colours ( COLOUR IN SPACE) alternate dynamically with different materials and textures; shelves, picture rails and pinboards activate the area; integrated seating is arena-like, forming a lively meeting spot for smaller or larger teams. The space strikes the perfect balance between a collegial work environment and warmth or cosiness, without turning it into your living room at home," says Ippolito Fleitz Group.