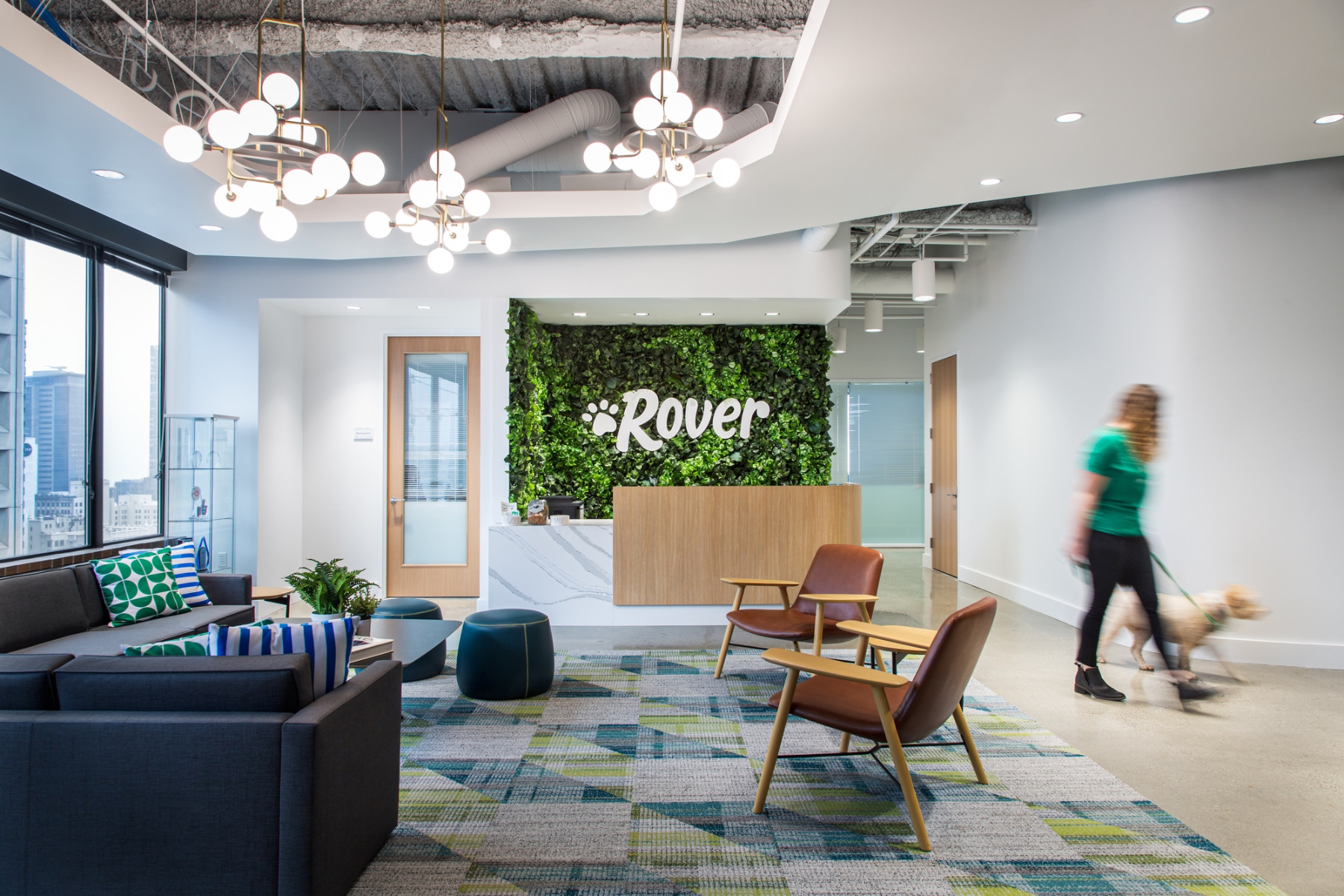 A Tour of Rover's New Seattle Office
Pet-sitting online platform Rover recently hired interior design firm Unispace to design their new office in Seattle, Washington.
"Having outgrown their disjointed, inherited space, Rover knew they needed to move and upgrade to align their company culture and values with their work environment. To create an atmosphere that connects their employees to each other, they partnered with us to design and build four additional floors in a new building and a "woofdeck", with two additional expansion floors to accommodate future growth.

This pet-loving haven where staff can work with their dogs nearby keeps in mind operation and durability of the workplace. All the workstations are enclosed with a sliding door, allowing Rover pets to roam free near their owner. Finishes, hard surfaces, carpet and furniture have all been strategically specified to sustain dog shedding, scratching and occasional accidents. In order to mitigate the noise and distraction challenges around pets in the workplace, additional focus and phone rooms were added near the workstation areas and larger meeting areas were consolidated in the same floor area.

Rover needed a versatile space to regularly accommodate large gatherings and all-hands meetings. This space is on the central floor, taking up almost 25% of the floor plan, and transforms from a café into a work lounge and open office space when it is not in use. Using the internal staircase, our team worked with Rover to coordinate like-business units on contiguous floors to maximize efficiency and collaboration.

We created a unique space for Rover that conveys their personality and passion, while showing their forward thinking-approach to the workplace, creating an inclusive environment that defines their brand and embraces the dog love in everyone," says Unispace.
Location: Seattle, Washington
Date completed: 2021
Size: 65,500 square feet
Design: Unispace
Photos: James Jones