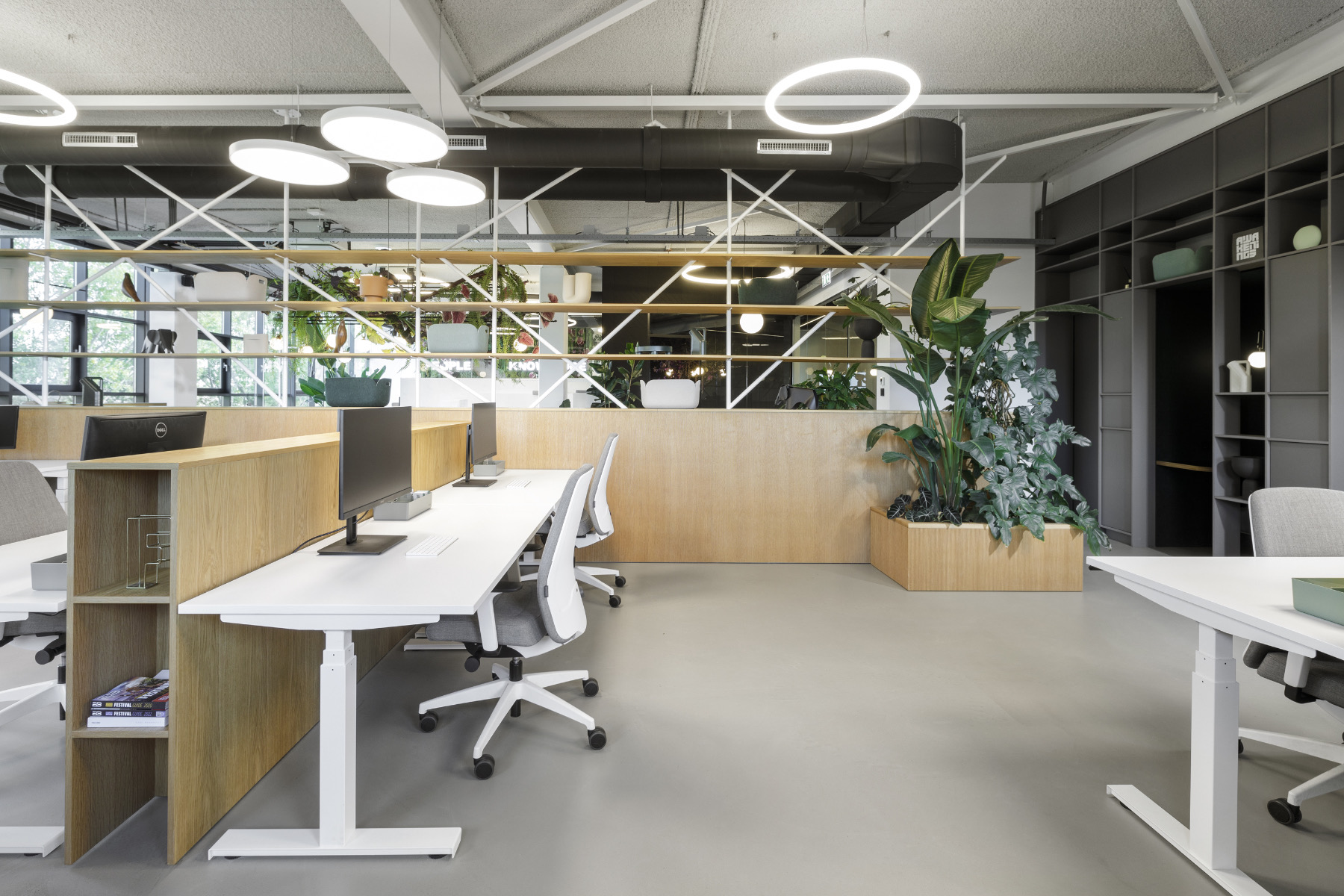 Inside Solid Event Crew's New Zaandam Office
Event company Solid Event Crew hired interior design studio Ninetynine to design their new office in Zaandam, Netherlands.
The SOLID office is a flexible and cohesive space that allows team collaboration and social connection on the one hand, and houses a call centre separated by a glass partition to ensure a high-focus atmosphere on the other. A large communal area with bright white gallery seating as its centrepiece allows larger gatherings, while a completely black meeting room is available to host small, intimate meetings or function as an edit suite.

A material palette comprising concrete flooring, white walls, oak joinery, fresh white composite surfaces in contrast with soft black PET-panelling and subtle dark green accents brings a natural aesthetic to the space and creates an enduring, contemporary finish.

Interior Design SOLID's tagline is People, Knowledge, Network, and the main space-defining elements, such as the enclosed meeting room, the gallery seating, and the room divider, reflect these words in their visual appearance.The meeting room corresponds with KNOWLEDGE. Materialised as a black box, covered inside and out with patterned, black PET wall panels and black velvet curtains, this soft space preserves secrets & knowledge.

The gallery seating is paired with the word PEOPLE. The U-shaped gallery with three seating levels and a seamlessly integrated high table act as a white canvas to be colourised by the staff. The materialisation is a combination of white cemented vertical surfaces and textured white composite horizontal surfaces. Small L-shaped tables made from perforated white powder-coated steel float above the gallery to be used as flexible working spots.The room divider between working and communal/social areas represents the word NETWORK. On a closed base, finished with oak ribbed panels, a steel structure of vertical and diagonal tubes features oak shelving to create a spectacular open element.

A floor-to-ceiling cabinet made from full-body grey MDF separates the open areas from the enclosed areas, including storage and two small single-person offices. In addition to storage, the cabinet integrates a small phone booth: a small niche cladded with dark green PET panels featuring a small table and a dark green upholstered bench.
Location: Zaandam, Netherlands
Date completed: 2022
Size: 3,014 square feet
Design: Studio Ninetynine
Photos: Ewout Huibers