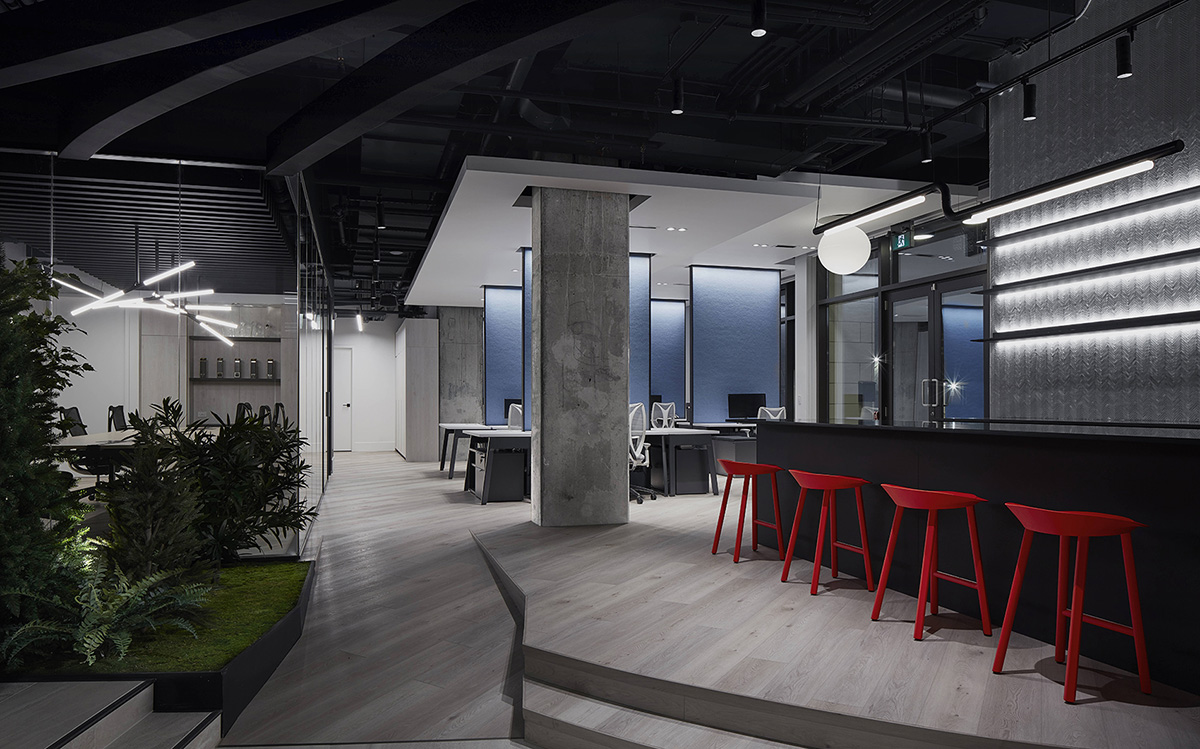 A Tour of North Drive's Sleek New Toronto Office
A team of designers from architecture & interior design firm Reflect Architecture recently designed a new office for real estate development company North Drive in Toronto, Canada.
"Toronto-based developers, North Drive, asked Reflect Architecture to create a space for them that would be a contemporary integration of office, sales centre, and event space. In working with North Drive, whose brand ethos is tied to the concepts of strengthening community, nature, and honest materials, the expansive west-end park across from the site was a clear starting point for the conceptualization of the design. Playing off of certain elements found in the park, such as a trellis and a picnic bench, the firm worked a mini park through the unit. The greenery delineates the space that is intended predominantly for the client's guests and that which is used for daily operations.

Inspired further by the landscapes of Norway, a culture that resonates with North Drive's core values, Reflect Architecture focused on muted, clean materials and dramatic lighting; not forgetting to include that little bit of the vibrant pink that sometimes illuminates Norway's spectacular mountain tops in the transitions between day and night. An oversized glass box is a spacious and airy office where the partners work and host impromptu or semi-private collaborations with their teams, as needed.

Also, responding to needs of a contemporary workspace to be both open and quiet, Reflect Architecture designed individual workstations to be set against felt panels that drop out of the ceiling. These panels are oriented to let natural light in, but also to provide some physical and acoustic privacy within the open workspace," says Reflect Architecture.