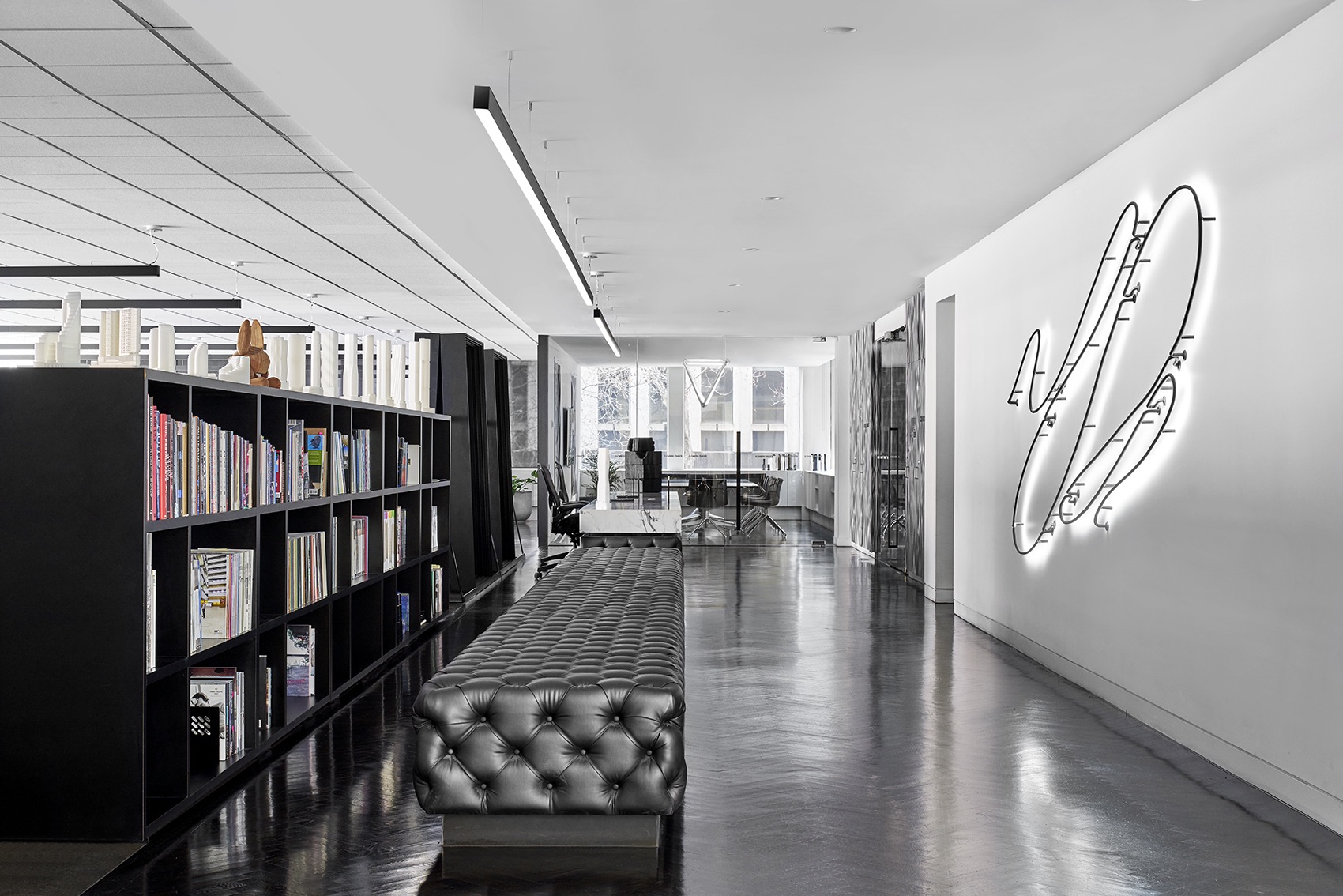 A Look Inside Elenberg Fraser's Minimalist Melbourne Office
Integrated design and architecture studio Elenberg Fraser recently moved into a new office in Melbourne, Australia, which they designed themselves.
"We haven't gone minimalist we've just moved house – always ahead of the curve, instead of working our way up, we're working our way down the building – our new studio is level 1. You could call it back to the future.

After the upstairs black and latex experience, our new office is set to propel us into the next 10 years of Elenberg Fraser's practice. You may have read about our new design process – our new workplace brings this new process and our new structure to life – live architecture, if you will. With no separation between back-of-house and front-of-house, the six design teams all have their own AV equipment, meaning that design workshops and client meetings are fully interactive. We can pull up 3D designs on the monitor, share 3D PDF's with our clients and even produce a 3D model as a record of conversations and developments. With our increasing off-shore presence in South-East Asia, those teams are present in our new space and our hub-like workstations mean that everyone is connected.

Of course, it's not all substance, there's a generous helping of our trademark style as well, in fact the design echoes our own commitment to being a platform for young designers. Lizzy's first time leading a project team, the space has a retro-modern twist – full of sharp detailing and beautiful materials including custom-designed Elenberg Fraser wallpaper. Painting is dead, this live gallery only features video art from some of Australia's emerging artists. The new office also manages to prove that it's not always what's inside that counts – we are lucky enough to have an outdoor courtyard! Japanese maples and sculptures mean that Melbourne weather permitting, half our meetings will be held outside.

An Elenberg Fraser office wouldn't be complete without some of our famous hospitality, and we've taken things to the next level in that department. A fully functional central kitchen will be the focal point of our revamped events calendar: single topic, small events with interested people," says Elenberg Fraser.
Location: Melbourne, Australia
Size: 16,000 square feet
Design: Elenberg Fraser
Photos: Peter Clarke