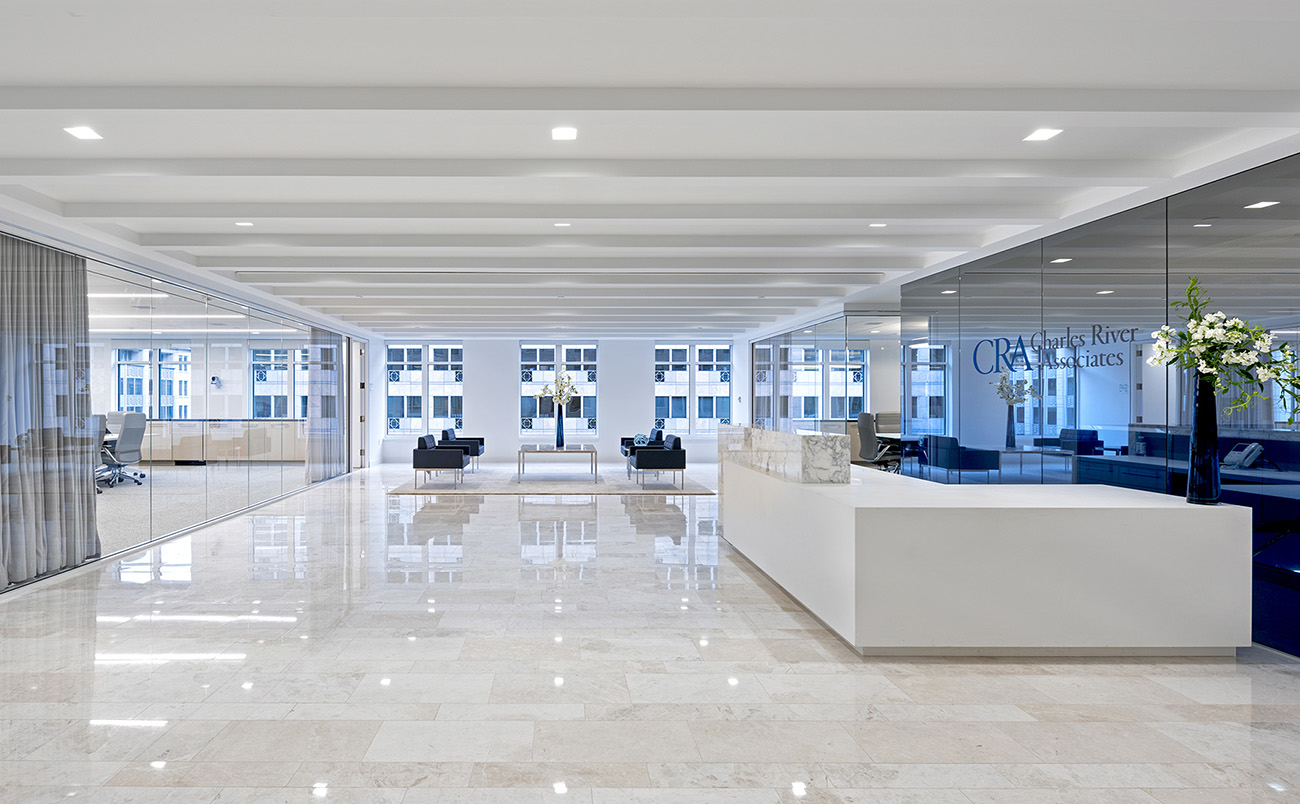 Inside Charles River Associates' New Washington D.C. Office
Global consulting firm Charles River Associates hired architectural firm Elkus Manfredi Architects to design their new office in Washington D.C.
"The initial moment of arrival prior to entering the Washington, D.C. CRA reception lobby welcomes visitors with an intriguing glimpse. Inspired by the blue of the Chesapeake Bay and the outdoor lifestyle of the Washington staff, the palette of clean whites and blues combines with upscale, reflective finishes that make the most of natural daylight to create a sense of modern refinement. The design of the reception desk showcases the quiet, sophisticated finishes and materials of the entire office. Design of the office imparts a feeling of spare, understated luxury.

The inviting cafeteria space offers a multitude of seating options that support spontaneous interaction, relaxation, and brain-storming. While the workplace was created before the COVID-19 pandemic, CRA is taking all precautions to accommodate for a safe return to the office. Spacious, relaxed, and uncluttered, the cafeteria is used for collaboration, both formal and informal, as well as focused work. The cafeteria's mural invokes a feeling of serenity and well-being.

The library doubles as a meeting room, with a table that converts to a ping pong table to help the highly-focused CRA staff relax. The broad stair connecting the two levels of the Washington, D.C. office provided the opportunity for an airy sculptural light pendant in a reflective metal finish. An informal seating lounge is a spot for coffee and conversation located in the midst of workstations and more formal meeting rooms," said Elkus Manfredi Architects.